Science of Gymnastics Journal vol.3, num.3, 2011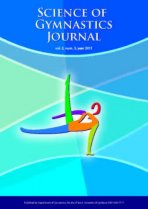 Bruno Grandi
130 YEARS OF FIG



Dear Friends of Gymnastics,
On the 23rd of July, 2011, the international gymnastics community has celebrated the 130th anniversary of the FIG creation. It all started in 1881, in Liege, Belgium.
The founder was a humanist, a visionary man, whose ideal was to bring people together around solidarity, tolerance and well-being, around the gymnastics principles.This man, Nicolas Cupérus, dreamed of gymnastics for all, men or women, from all backgrounds or generations; he knew being active was the only way to long term well-being, and that without well-being no culture or personal development would be possible. Indeed dear friends, health experts will confirm that while your car wears out with mileage, your body wears out and ages prematurely with inactivity.
Today, 130 years later, Cupérus' vision is more than ever appropriate. Physical activity and gymnastics are the cure and answer to many 21st century illnesses: idleness, obesity, unhappiness. All societies and age groups are affected and the effects extend not only to the individuals' performances but also to the health care system reaching huge deficit level. The FIG global Gymnaestrada which was hold in July in the Olympic Capital Lausanne, is a real solution to this malaise. Our 20.000 gymnasts gave us a brilliant answer with their enthusiasm, they delighted us with the quality of their routines, and they cheered us up with the beautiful lesson of life they displayed in Lausanne. I paid tribute to them all. My dear friends, gymnastics and the FIG have come a long way together.
Established in 1881, part of the Olympic movement since day one, our Federation is one of the oldest world sporting associations. In the early days of the FIG, Pierre de Coubertin and our founder Nicolas Cupérus could have crossed path. The former had the distinguished career we know and led the revival of the Olympic Games. The latter shared the same sporting ideal for the purpose of education and health. There was a difference though! An important one. Coubertin spoke of competitions. Cupérus didn't value individual performance! He valued a sport for all abilities, for all levels, for everyone. The father of the gymnastics community wanted to create a universal movement, gathered around a vision of well-being, physical activity, body language, for all people and all ages. The Spirit of the World Gymnaestrada, gymnastics for all, was born in 1881 from the FIG founder's original quest. Cupérus had to abandon his project and bow down to those in favour of a competitive gymnastics. He did win posthumously when in 1953 Johannes Heinrich François Sommer, one of his loyal successors, organised the first World Gymnaestrada in Rotterdam.
Today, Gymnastics is one of the most important sports of the Olympic programme. Thanks to the artistic disciplines, we have a tremendous TV coverage the world over. But this success is not for ever. We must pay attention to the future of our sport. I recently invited all the technicians to attend a Symposium dedicated to the Code of Points of all of our 6 competitive disciplines, in order to evaluate the positioning and the potential development of our sport. The more seasoned among us remember back to the first Code. A twelve-page opus crafted by Gander, Lapalu and Hentges, it gave structure to Men's Artistic Gymnastics and mapped out judging in three distinct categories: difficulty, combination and execution. That was back in 1949.
Today, the Code reaches out to cover all FIG disciplines; it governs everything, infiltrating gymnastics like a metastasis that spreads and traps the sport in its deadly net. Originally created to serve the development of our sport, the Code has mutated into a time bomb that we are wholly unable to contain. Worse, it is a pitfall to judges and gymnasts alike, and creates situations that are often impossible to navigate. Remember Athens!
The time has come for us, the technicians, judges and leaders in sport, to gather round a single table and revisit the Code; to re-equip our discipline with the structure and spirit originally inherent to it. This is the endgame of the FIG Symposiums for Rhythmic Gymnastics in Zurich (SUI) at the end of April, for Artistic and Trampoline in mid-June and for Aerobic and Acrobatic in September. Simplify the Codes; we all agree on this point. Keep in mind the essence of Roman law, the first legal system in the history of Man and which is still active today. According to our predecessors, excessive detail is what dilutes and suffocates justice. Too many laws annihilate law itself! Starting in 2005, we took successful steps toward standardising our Codes; a commendable action, to be sure, but a far cry from being enough. What we need is complete and unequivocal reform if we hope to have a Code that serves to further develop our sport. We must simplify, not complicate. What is the essential reason for the Code? What is it made to do? What is the meaning of its existence? The answer is found in history, whose most basic message is that in order to move forward into the future, one often needs to take a brief look into the past.
At the 1948 Olympic Games in London, judging in gymnastics was scandalous! Judges were using criteria to evaluate exercises specific only to their own countries. It was a free for all. Such chaos! A Code was then created to clarify and classify criteria to maintain a standardised approach to judging. Unity was finally re-established. A mere twelve pages in 1949 compared to hundreds today, not counting the thousands of symbols that go with them! How can a judge effectively react, evaluate and decide in mere seconds and under the pressure that goes hand in hand with, say, an Olympic Final? Impossible; it is beyond human capacity.
We need a Code, a point of reference, which will bring structure to the evaluations brought by our judges and allow us to employ the Fairbrother system. Only by doing this will we be able to avoid situations such as were experienced in Athens and London. We have the tools, IRCOS for one, which can aid in attributing an accurate technical score if used properly. But we must accept the fact that the Artistic score is largely a product of a more subjective, and certainly human, evaluation. That is the variable in our equation; fallible but not unjust. And if we are to lose ourselves in the nimbus of objectivity, we have reference judges in the wings to set our course straight.
Thank you all for your attention.
Ivan Čuk
Editorial



Dear friends,
Whole Science of Gymnastics Journal vol 3 num 3 2011.pdf
International Gymnastics Federation celebrates 130 years since it has been established. Respectable anniversary, no other sport federation has it. In many ways FIG showed the way to sport and science, so we asked FIG president Prof. Bruno Grandi to write some past, present and future aims of gymnastics family.
The last year issues of Journal were visited by more than 16000 visitors, what gives us a true compliment for our endeavor. By the New Year 2012 we will establish SchoolarOne Manuscript Software for easier work with articles for authors, reviewers and publishers. We were included into Index Copernicus, we are waiting to be included into Proquest Physical Education Index, and in 2013 we will be evaluated by Thomson Reuters to become part of Science Citation Index. In the mean time we need to continue with good articles (you are welcome to contribute your knowledge to the gymnastics world) which will be cited also in other scientific journals.
October issue of the Journal starts with the design of double Jaeger on high bar. Thomas Heinen, Damian Jeraj, Pia Vinken, Katharina Knieps, Konstantinos Velentzas and Hedi Richter performed a huge series of calculations (on the basis of known results from Jaeger, Gaylord and Pegan saltos). They found out Double Jaeger is possible to perform (actually by some evidence Valerij Ljukind did it in training sessions) but it has certain limitations. What German Austrian team calculated we will wait to see in vivo at the competition.
The second article is by German authors Stefan Brehmer and Falk Naundorf. They analyzed runway speed characteristics of the young gymnasts. There is an increase in the velocity up to the end of men's junior gymnastics age, followed by stagnation in senior age. The speed increase in pubescence and adolescence do not differ. Therefore coordinative and conditional factors determined the development of run-up velocity equally.
The third article comes from Slovenia. Ivan Čuk, Samo Penić, Matej Supej and Dejan Križaj made a new technology (with accelerometer) for evaluating action on springboard. Results gathered from the new technology are similar to those obtained by other technologies. New technology can be used for training and scientific purposes.
The fourth article is from combined team from USA and UK: Wiliam A. Sands,Jeni R. McNeal,Monèm Jemni,Gabriella Penitente and deals with the safety in gymnastics. Five questions are proposed as a model for injury prevention and safety. Do not forget – only healthy gymnast can fulfill his champion dream.
The fifth article deals with gymnast's morphology. Portuguese authors Luísa Amaral, José FerreirinhaPaulo Santos with Belgiumexpert Albrecht Claessens write about the incidence of positive, neutral and negative ulnar variance between gymnasts and the general population (both immature and mature), seeking to identify possible wrist injury risk factors, which usually influence the gymnasts' health and performance.
The sixth article is from Bosnia and Herzegovina, authors Almir Atiković and Nusret Smajlović did interesting analyze of the FIG vault difficulty values. Since it has been in May FIG symposium on Code of Points their work can help towards better design of difficulty values.
I wish you pleasant reading and a lot of inspiration.
Thomas Heinen, Damian Jeraj, Pia M. Vinken, Katharina Knieps, Konstantinos Velentzas & Hedi Richter
WHAT IT TAKES TO DO THE DOUBLE JAEGER ON THE HIGH BAR?



Nowadays, the Jaeger (forward salto behind the bar to regrasp) is seen as a basic flight element, already taught early in a gymnast's career. Acknowledging, that gymnasts have made advances in the development of new techniques on the high bar, the aim of the present study was to show that the double Jaeger is actually possible to be performed, and to specify the mechanical conditions one athlete must provide to have the competence to perform. A computer simulation model was used to investigate the mechanical conditions of different variants of the double Jaeger (tucked and piked). Input to the model comprised a national level gymnast's segmental inertial parameters, and the gymnast's performance in terms of the calculated and smoothed angle-time histories of Jaeger and Gaylord performances. Initial conditions consisted of the gymnast's vertical and horizontal release velocities of the center of mass, the angular velocity about the transverse axis, and the joint angles at release. Model output comprised the resulting motion of the gymnast. A systematical variation of the skill's parameter space led to a total of n = 940896 simulations. From these, 3.26% were successful for the double tucked Jaeger, and 2.50% were successful for the piked variant. Due to the simulation it can be concluded, that the double Jaeger is a hypothetically feasible skill for gymnasts who can produce a defined angular momentum together with a defined time of flight.
Keywords: simulation, motor control, techniques, gymnastics.
Stefan Brehmer & Falk Naundorf
AGE-RELATED DEVELOPMENT OF RUN-UP VELOCITY ON VAULT



The run-up velocity on vault is described in many publications as an important factor to generate the energy for the subsequent motion segments of a vault. For a high run-up velocity both, biological backgrounds and empirical investigation show a steady increase in speed until the start of men's senior gymnastics age. Different mechanisms are responsible for this circumstance. Thus the increases of the running velocity during childhood and up to pubescence are due to primarily informational or coordinative development. From the beginning of puberty the faster sprint performance, especially in male gender, can be explained by conditional developments based on changed hormones level. To proof the explanations we compared the age related velocity in different stages of motor development, using run-ups of the last four years at various high level competitions. There is an increase in the velocity up to the end of men's junior gymnastics age, followed by stagnation in senior age. The speed increase in pubescence and adolescence do not differ. Therefore coordinative and conditional factors determined the development of run-up velocity equally.
Keywords: age-related, development, run-up velocity, vault, men's gymnastics.
Ivan Čuk, Samo Penič, Matej Supej & Dejan Križaj
TOWARDS A SMART SPRINGBOARD (CASE STUDY)



Several measurement techniques can be used to analyze vaulting in gymnastics, however, no device is specifically developed for analyzing the springboard usage. After analyzing the literature about vaulting and the types of measuring devices used for analyzing physical parameters on vault we decided to develop a dedicated apparatus for measuring springboard actions. The new device is composed of a processor unit with LCD display and is connected to accelerometer sensors that are placed under the top desk of the springboard. The acceleration of the springboard desk during the jump is measured for two axes at 1000 Hz. From measured accelerations velocities are calculated by numerical integration and several parameters such as time to maximal springboard compression and maximal velocity at take-off are determined and displayed. The data is directly transferred to a PC for further analysis through an USB connection. Matlab software was used to record, filter and analyze the measured data. Results are in good agreement with simultaneously obtained results from the force plate and laser displacement sensor measurements (similar time and vertical velocity). With developed equipment it will be possible to determine typical springboard action parameters for individual gymnast, optimal springboard parameters for a required jump, to analyze repeatability of springboard jumps, to analyze transverse movements and to optimize training and its efficiency. The developed device has good potential for use as a fast information system as well as a device for suitable science/research projects in vaulting.
Keywords: measurement technology, accelerometer, take off velocity, vault.
William A. Sands, Jeni R. McNeal, Monèm Jemni & Gabriella Penitente
THINKING SENSIBLY ABOUT INJURY PREVENTION AND SAFETY



In spite of considerable media, educational, conference, and medical attention, gymnastics' most serious problem remains – injury. Programs for injury prevention, recovery, and treatment have been proposed often, implemented haphazardly and have shown little merit with respect to actually reducing injury incidence and rate. The countermeasures involved in injury prevention include a variety of tools ranging from apparatus specifications to the attitudes of administrators, coaches and athletes. Sadly, if any one of the countermeasures is inadequate an injury is a likely result. The relative risks of poorly constructed and implemented safety programs, poor training and a lack of imagination, and simple denial of risk are among the most serious threats to attaining and maintaining reduction of injury incidence and rate. Five questions are proposed as a model for injury prevention and safety involving ideas that have been gathered from both safety and security literature. The ramifications of these questions are discussed and their potential use in identification of countermeasures is postulated.
Keywords: gymnastics, training, risks.
Luísa Amaral, Albrecht Claessens, José Ferreirinha & Paulo Santos
ULNAR VARIANCE AND ITS RELATED FACTORS IN GYMNASTS: A REVIEW



Ulnar variance is the relative length of ulna in relation to the radius. This morphological variation in the distal epiphyseal structures may lead to symptoms or pathologic changes to the wrist joint. In order to evaluate and quantify distal radioulnar length discrepancy, different imaging techniques are used, depending on the individual's maturity. The purpose of this review is to summarize the current literature on this subject and to describe ulnar variance trends, taking into account its association with biological and/or training precursors. Our study analyzes the incidence of positive, neutral and negative ulnar variance between gymnasts and the general population (both immature and mature), seeking to identify possible wrist injury risk factors, which usually influence the gymnasts' health and performance.
Keywords: gymnastics, morphology,wrist, injury.
Almir Atiković & Nusret Smajlović
RELATION BETWEEN VAULT DIFFICULTY VALUES AND BIOMECHANICAL PARAMETERS IN MEN'S ARTISTIC GYMNASTICS



The aim of the paper is to define which biomechanical parameters explain and define the difficulty vault value. The study sample included 64 vaults from the Code of Points (COP) of the International Gymnastics Federation (FIG, 2009). The dependent variable included all difficulty values ranging from 2-7.2 points, while the sample of independent variables included 12 biomechanical variables (data was collected from the literature and our measurements). With regression analysis we explained 92.4% of the difficulty vault value. Only three biomechanical variables were predictors: degrees of turns around transversal axis, degrees of turns around longitudinal axis and body's moment of inertia around transversal axis in the second flight phase.
Keywords:Code of Point, FIG, vault, men's artistic gymnastics, difficulty, biomechanics.