The Faculty of Sport is situated on the periphery of the city centre, at the foot of the Golovec hill, in the middle of one of the most beautiful sports parks in Ljubljana – the Kodeljevo park. With its diverse offer of sports practice, the Faculty of Sport is ideally integrated into other activities of the Kodeljevo sports park and gives it its distinctive character of youth and student life. Its exceptional location and a relatively huge number of sports facilities in its vicinity offer many opportunities for sports, study, developmental, research and tourist activities that the Faculty of Sport wants to realize together with its partners in the University Sports Centre of Ljubljana.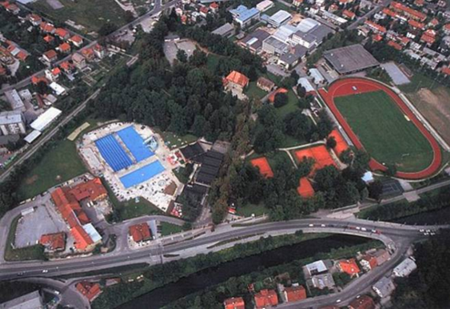 Access to the Faculty of Sport
Bicycles and Rollerblades: The Faculty of Sport is making every effort to persuade its visitors to come there as actively as possible. Bicycle racks are available in front of the Faculty, and inside the Faculty, there are lockers for helmets and Rollerblades. In the future, the Faculty plans to build a guarded bicycle shed with a cloakroom belonging to it in cooperation with the Municipality of Ljubljana.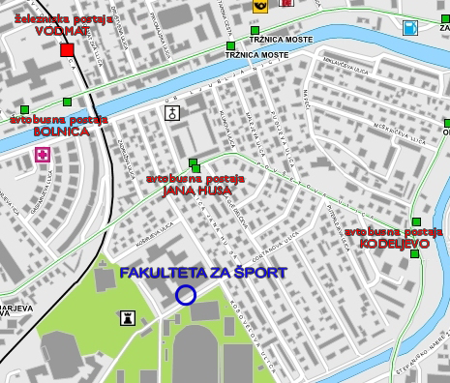 City public transport: Bus No 5 (250 m from the Jan Hus bus stop in Povšetova ulica street) and buses Nos 2, 11, 20, 25 (400 m from the Nove Poljane bus stop in Zaloška cesta street). Buses run every day throughout the year, i.e. on weekdays and Saturdays (between 5 a.m. and 9 p.m.) as well as on Sundays and holidays (from 6 a.m. to 9 p.m.). On weekdays, buses run at the intervals of 10 minutes during rush hours, otherwise they run at 13-minute intervals. On Saturdays between 7 a.m. and 3.15 p.m., they run at 15-minute intervals, otherwise they run every 20 minutes. On Sundays and on holidays, buses run at 20-minute intervals throughout the day.
Train: In the direction of Dolenjska (500 m from the Ljubljana Vodmat railway station). Trains run every day throughout the year, on weekdays between 5 a.m. and 9 p.m. at approximately 1-hour intervals, on Saturdays, Sundays and holidays four times a day.
Car and motorcycle: If you come by car or motorcycle, you will most easily find a parking space in front of the Kodeljevo outdoor swimming pool (access from the Poljanska cesta street). From there you have a 100-m walk to the Faculty of Sport along a tree-lined road leading through the Kodeljevo park. A limited number of parking spaces can also be found around the Faculty building.