Year 2009, Num.1, Vol.1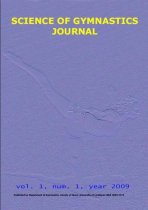 Ivan Čuk
FOREWORD



Dear friends,
In front of you is a new journal with an easy name to remember, the Science of Gymnastics Journal. It is a journal, as the name says, dedicated to gymnastics.
When I checked the keyword 'gymnastics' on the Web of Science (WoS, as of 14th July) I learned that throughout the history of WoS (since 1970), 'gymnastics' has featured in 410 journals. The top four journals are the MEDICINE AND SCIENCE IN SPORTS AND EXERCISE with 29 published articles, the AMERICAN JOURNAL OF SPORTS MEDICINE with 21 articles, CLINICS IN SPORTS MEDICINE and the JOURNAL OF SPORTS MEDICINE AND PHYSICAL FITNESS with 20 articles each. The top 25 journals have published 344 articles and all of them together have published 885 gymnastics-related articles. As the WoS was established in the USA, most of the articles are in English (85%), followed by German (6.8%) and French (3.9%). There are also a few articles published in Italian, Russian, Portuguese, Spanish and Turkish respectively.
We decided to use English as the main language, but will also publish articles in the writer's mother language should he or she wish so.
In 1970, when the WoS was established, there were no articles about gymnastics; this number shot up to 64 articles in 2007. The WoS includes writers from 46 countries, most of them from the USA, France, England and Germany. It is interesting to note that there are precious few articles from the former Soviet Union, the whole eastern block and Asia. This is in stark contrast with results achieved in gymnastics at Olympic games and world championships.
The gymnastics community has wide interests; gymnastics itself can be approached from a range of aspects. There is an enormous field of research, spanning from history and medicine to biomechanics. Subjects can cover newborns and elderly, and everyone in-between; research can focus on absolute beginners or on top athletes winning world champions. There is a wide spectrum of disciplines, including artistic gymnastics, acrobatics, rhythmic gymnastics, sports aerobics etc.
Gymnastics is the key word to all of us. The Science of Gymnastics Journal wishes to be a meeting point for all those who are interested in research and want to share their knowledge with others. Some issues are so specific they cannot be published anywhere else, for example, case studies, such as biomechanical characteristics of the Pegan salto on the high bar. The Science of Gymnastics Journal will be more than pleased to publish such case studies on top gymnasts.
The first issue of our journal brings six articles. Their writers come from four countries. They cover a wide range of topics, including biomechanics, motor learning, diet, performance characteristics and terminology.
As we want to be read by researchers, coaches, judges, gymnasts, parents, students and gymnastics fans we will be available on www.scienceofgymnastics.com 24/7, free of charge.
Thank you for reading, I am looking forward to your comments and your articles,
Ivan Čuk
Editor-in-Chief
*
SCIENCE OF GYMNASTICS JOURNAL



The whole Science of Gymnastics Journal in PDF format.
Miha Marinšek
LANDING CHARACTERISTICS IN MEN S FLOOR EXERCISE ON EUROPEAN CHAMPIONSHIP 2004



In our research we focus on certain characteristics of salto landings that were performed on European Championships 2004. Our goal is to determine characteristics which have influence on the magnitude of the landing mistake. We analyzed saltos which were performed by senior gymnasts (N= 97) who were competing in the qualifications of the European Championships 2004 in Ljubljana. We defined the variables according to a theoretical model for the evaluation of salto landings in the floor exercise. The results show that axis of rotation, number of turns around longitudinal axis, and initial landing height have a significant impact on the magnitude of the landing mistake. The results also show that soft landing is most effective, landing after saltos without twists is optimal with feet together (unless gymnasts' abilities of left and right leg are different) and arms positions at touch down should be upward.
Keywords:
gymnastics, floor exercise, landings
Haitao Chen, Mei. Wang, Shu Liu, Shanzhen Lu, Peiwen Zhang,
A CASE STUDY OF A BODY WEIGHT CONTROL PROGRAMME FOR ELITE CHINESE FEMALE GYMNASTS IN PREPARATION FOR THE 2008 OLYMPIC GAMES



For top level female gymnasts , effective body fat reduction is a long-term process, often resulting in various issues; how to keep the physical fitness at an optimal level? How to control the amount of training to improve skill and performance? This report presents a case study of a successful weight-loss program used by the Chinese National Gymnastics Team when preparing for the 2008 Olympic Games.
Keywords:
body weight control, Olympic Games, elite gymnastics
Maja Bučar Pajek, Jernej Pajek
LOW BACK PAIN AND THE POSSIBLE ROLE OF PILATES IN ARTISTIC GYMNASTICS



Low back pain is one of the commonest sites of pain in gymnasts. This pain may accompany well defined anatomical abnormalities of the spine or be present without significant skeletal abnormality. Skeletal abnormalities correlate with age and hours of training per week implicating that spinal injuries in gymnasts are "training-dose" related. We give an overview of the studies reporting on the incidence and prevalence of spinal injuries and low back pain in artistic gymnastics. The origin of low back pain is described and analysed. Pilates is an increasingly popular system of body-stabilising exercise. Its main principles are devoted to activation of the muscles contributing to spinal stabilization. It was used as a rehabilitation method for a lower back problems and was shown to be effective and of good subjective acceptance in the general population, whereas specific studies in the artistic gymnastics are lacking. According to the studies with training programs implementing similar lower-trunk stabilizing principles as Pilates, gymnastics couches may be encouraged to implement this kind of exercise for prevention and treatment of chronic low back pain in gymnasts.
Keywords:
sport, injury, training, spine, rehabilitation, prevention
Ivan Čuk, Almir Atiković, Muhamed Tabaković
TKACHEV SALTO ON HIGH BAR



With the new FIG Code of Points for men (2006) based on the philosophy of open ended difficulty score, point advantages have been given, again, to those who are in search for and willing to perform new elements. Each element in the Code of Points can be developed by changing its start and its final position, the start and the final grip with the apparatus, the body position during the element, by adding a flight phase or a rotation around the frontal, the longitudinal or the sagital axis. The Tkachev is quite an old release element (approximately 40 years old) on high bar. In line with the knowledge available to us today, we have been looking into the possibility of performing the Tkachev salto. Following series of biomechanical analysis with consideration of the gymnast's safety, we calculated that the Tkachev salto could be performed by those gymnasts who can perform the straight Tkachev with a high amplitude. Gymnast who will be able to perform the Tkachev salto at a major competition will enter the gymnastics history and have huge chances of wining the most prestigious competitions.
Keywords:
artistic gymnastics, biomechanics, new elements, Tkachev salto
Kamenka Živčić Marković, Darija Omrčen
THE ANALYSIS OF THE INFLUENCE OF TEACHNING METHODS ON THE ACQUISITION OF THE LANDING PHASE IN FORWARD HANDSPRING



Forward handspring is an acrobatic element that has been used in competitive gymnastics for many years as one of the basic elements combined with other acrobatic elements with forward rotation of the body. A whole series of quality descriptions of its execution technique can be found in recent literature. Still, scientific research based on the analysis of kinematical and kinetic components, that is, on biomechanical characteristics of its execution are rare. By using the hierarchical cluster analysis and on the basis of relevant kinematical parameters the inter-relationship between teaching methods and acquisition of landing in the forward handspring was analysed. The obtained results show that the teaching methods of the landing phase in forward handspring are highly correlated, and they concur in most of the analysed kinematical parameters. The homogenization of groups and their similarity were achieved on the basis of similar values of parameters determining the technical component of the landing phase execution in forward handspring and relating to the angles between certain body segments.
Keywords:
artistic gymnastics, forward handspring, landing phase, biomechanics, cluster analysis, teaching methods
Darija Omrčen, Kamenka Živčić Marković
THE DISCOURSE OF THE EPISTEMIC COMMUNITY OF ARTISTIC GYMNASTICS: THE ANALYSIS OF ARTICLES TITLES



The goal of this study was to analyse 105 titles of articles published in 43 journals that are indexed in at least one of the three databases - ScienceDirect, MEDLINE and Scopus - in order to describe the epistemic community that deals with gymnastics-related topics. To analyse the collected data frequencies, Pearson Chi-square test and the hierarchical cluster analysis were used. The results showed that most articles were written by two or three authors, and that the titles written by two, three and four authors contained the largest number of words of Latin etymology. Words of Latin origin were used significantly more frequently than those of the English origin, whereas a word of Greek origin was used almost as frequently as a word of English origin. The word class most frequently used in the titles was the nouns. Neither the number of words of Latin origin per title nor the number of words of Greek origin differed significantly by the publication year. The cluster analysis showed that the principal cluster was formed of lexical words which were nouns predominantly of Latin origin. The results of this research showed that the scientific discourse of the analysed titles concurs with the basic principles of academic writing and that the epistemic community of artistic gymnastics can be identified by its specific vocabulary.
Keywords:
titles, etymology, scientific discourse, academic writing