Science of Gymnastics Journal vol.13., num.1., 2021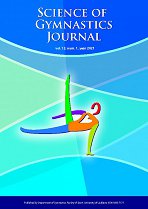 Ivan Čuk
Editorial



Dear friends,
We are all eagerly waiting the Olympic Games in Tokyo. In the meantime, you can enjoy our first issue of Science of Gymnastics Journal this year. We have entered the thirteenth year of publication. Let's hope this number will bring us good luck!
In this issue we have many interesting articles. The first is by William Sands and his colleagues. They tried to answer the big question whether gymnastics is rising or sinking. It opens questions we need to consider, including whether to pursue the Olympic motto Faster, Higher, Stronger or perhaps "a healthy mind in a healthy body" is a worthy goal too.
There is a wide spectrum of other important research projects that our authors from many different parts of the world contributed. We are proud of our diversity and the range our authors cover.
We also have a small anniversary, i.e., this issue presents Anton Gajdoš's 20th short historical note, introducing two German gymnasts, Alfred Schwarzmann (Olympic all-around champion ) and Walter Stefans, who were both members of the winning team at the OG in Berlin 1936.
From our June issue onward, we will add a DOI number to each article as the University of Ljubljana and our Faculty of Sport have been authorized to generate DOI.
We strongly recommend all authors to use Grammarly or Instatext (you can find them using any search engine on the internet) before sending their manuscript to the editor. Both tools are free and can improve your writing.
Just a reminder that if you cite the journal, its abbreviation in the Web of Knowledge is SCI GYMN J.
I wish you enjoyable reading and many ideas for new research projects and articles.
William A. Sands, Gregory C. Bogdanis, Gabriella Penitente & Olyvia Donti
ASSESSING INTEREST IN ARTISTIC GYMNASTICS



Despite information from world media, worldwide interest in artistic gymnastics has never been assessed. Memberships, equipment and apparel purchases, subscriptions, and other data have been used as indirect substitutes for gauging interest and participation in gymnastics. A readily available tool for assessing gymnastics interest could be of use in uncovering myriad trends. Aim of Study: This study sought to use a relatively new internet search tool called Google TrendsTM (GT) to assess gymnastics interest by records of search terms used in GoogleTM. Methods: GoogleTM searches involve the use of search terms that are recorded and then accessible by GT. As GoogleTM searches provide access to topics of interest nearly anywhere in the world, by anyone with internet access, then using Google TrendsTM, then GT could be used to harvest the number and types of searches involving the search-terms "men's gymnastics" and "women's gymnastics." The tally of the search terms was obtained using filters such as country, region, and others. GT reports the search-term trends by calculating a relative percentage based on a sample of the largest number of specific search-term use during a particular time. Although the relative percentage approach is somewhat awkward, processing large amounts of data may be considered valuable and otherwise unattainable. Results and Conclusions: Results should be interpreted cautiously. However, the analysis revealed a litany of important trends in the worldwide interest in gymnastics.
Keywords: Media, Internet, Google.
Paloma Trucharte, Ignacio Grande
ANALYSIS AND COMPARISON OF TRAINING LOAD BETWEEN TWO GROUPS OF WOMEN'S ARTISTIC GYMNASTS RELATED TO THE PERCEPTION OF EFFORT AND THE RATING OF THE PERCEIVED EFFORT SESSION



The aim of this study was to assess the internal training load in female artistic gymnastics through subjective perception of effort (PSE) by calculating the sRPE variable and different associated variables. Ten gymnasts participated (age: 14.4 ± 2.9 years; height: 1.5 ± 0.1 m; mass: 43.3 ± 12.2 kg) and were divided into two groups according to their competitive level and weekly training volume: High Level Gymnasts (HLG) and Medium Level Gymnasts (MLG). The PSE of each gymnast was recorded daily for four weeks after the end of each training block. The HLG group recorded a significantly higher RPE and sRPE value in the specific physical preparation (SST) and in the parallel technical training (UB) contents (p < 0.05) compared to MLG. Statistically significant differences were also obtained from the registered mean values of RPE and sRPE when comparing training content. Furthermore, a direct relationship between volume and workload was observed. Finally, the variables associated with injury risk control provided relevant information to determine that the HLG group had a higher risk of injury than the MLG group. Therefore, the sRPE has been a useful tool to assess the internal training load in women's artistic gymnastics. Such information may help quantify the load in this sport in the future.
Keywords: training load, internal load, gymnastic.
J.C. Ausmus, Lindsey C. Blom, Sharon Bowman, Jean-Charles Lebeau
THE RELATIONSHIP BETWEEN SOCIAL MEDIA AND DISORDERED EATING IN COLLEGE-AGED FEMALE GYMNASTS



While the relationships between media and eating disorders and disordered eating patterns in college-aged women have been extensively studied (e.g., Bissel, 2004; Grabe & Hyde 2009; Harper & Tiggeman, 2008; Yamamiya, Cash, Melnyk, Posavac, & Posavac, 2005), fewer studies have been conducted with female athletes. More specifically, limited studies have focused on the relationship between social media and eating behaviors of athletes participating in aesthetic sporting events, even though the highest rates of disordered eating patterns occur in sports where female athletes are scored on judges' opinions (Hausenblas & Carron, 1999; Smolak, Murnen, & Ruble, 2000; Sundgot-Borgen, 1994), and where leanness, thinness, and aesthetic skills and aspects are emphasized (Byrne & McLean, 2002; DiBartolo & Shaffer, 2002). Thus, the current study sought to understand the links among college gymnasts' perceptions of body image, disordered eating behaviors, and perceptions of athletes' body images presented on social media. Furthermore, the study also explored how criticism presented on social media relates to disordered eating symptomatology. The study was conducted via an online survey system by 72 18-25-year-old females who were currently competing or recently competed in club or collegiate gymnastics. Results found significant correlations between the severity of critical comments about physical appearance, emotional reaction to criticism about physical appearance, and disordered eating behavior in instances where the comments were not made on social media, but no correlation was found between severity, emotional reaction, and disordered eating behaviors for comments made on social media.
Keywords: twitter, facebook, snapchat, instagram, eating disorders, athletes, criticism.
Almir Atiković, Edina Kamenjašević
THE PREDICTION OF ALL-AROUND EVENT FINAL SCORE BASED ON D AND E SCORE FACTORS IN WOMEN\'S ARTISTIC GYMNASTICS



In the present study, we try to establish whether specific disciplines in women's artistic gymnastics are equal and should the applicable Code of Points (COP) be revised in terms of point standardization on apparatus. Our sample included all-around senior female gymnasts who participated in the qualification (C-I) competitions from 2009 to 2019. The aim of our research was to determine the impact of individual apparatus D and E score in women's artistic gymnastic in relation to the final result of all-around event. The age among seniors rise from 2009 to 2019 for 1.88 years. In our analysis, we have found that the results achieved on each apparatus were significantly different. The average final scores on vault were significantly higher than on all other apparatus. Significant predictors of all-around success seem to be uneven bars D and E scores and balance beam E score. It was interesting to observe that the vault, balance beam and floor D scores were not significant predictors. Coaches can use the results from this research in their planning of preparation tactics for gymnasts in all-around, team and apparatus competitions.
Keywords: women's artistic gymnastics, judging, competitive performance, prediction.
Giurka Gantcheva, Yulia Borysova, Nina Kovalenko
EVALUATION AND DEVELOPMENT OF ARTISTIC ABILITIES OF 7-8-YEAR-OLD RHYTHMIC GYMNASTS



A competitive composition in rhythmic gymnastics is a small performance that has its own storyline. That is what judges E1 and E2 evaluate. Judges' penalties for unsatisfactory artistry can be up to 5 or 6 points. In the works of scientists, the issues of artistry education for 7-8-year-old gymnasts are hardly ever addressed. To develop a methodology for the development of artistic abilities of 7-8-year-old female gymnasts. Theoretical analysis and synthesis of scientific and methodological literature; questionnaire (survey of coaches); pedagogical observation, experiment, testing: expert assessments; mathematical statistics. The study involved 20 7-8-year-old female gymnasts who have engaged in rhythmic gymnastics for 2 to 3 year and have category 2 qualification. An analysis of scientific and methodological literature shows the need to intensify research into the development of the aesthetic component in the training of female athletes in rhythmic gymnastics. On the basis of our questionnaire, it has been determined that it is necessary to develop artistic abilities of young female gymnasts by using elements of facial gymnastics, performance and improvisation. Introduction of a methodology for shaping the artistic abilities of female gymnasts in the educational and training process of the experimental group subsequently led to an increase in the female gymnasts' marks for their competitive routine by 1.3 ± 0.12 points (p <0.05). The improvement rate in artistry in the experimental group was 18.4%, and in the control group 8% (p <0.05).
Keywords: rhythmic gymnastics, artistic abilities, 7-8 years.
Yaiza Taboada-Iglesias, Águeda Gutiérrez-Sánchez, Diego Alonso-Fernández, Mercedes Vernetta-Santana
SOMATOTYPE ANALYSIS BY AGE CATEGORIES IN SPANISH FEMALE ACROBATIC GYMNASTS



Somatotype is one of the variables seen as the key to success in sports and talent detection at different ages. This is confirmed by evidence in some gymnastic disciplines in different age categories, but no study has been conducted for Acrobatic Gymnastics. The objective is to establish the characteristic somatotype profile in Acrobatic Gymnastics for each age group, determining whether there are differences among them and between the roles in each one. The sample was made up of 54 female tops (X= 11.23 years; 29.62 Kg) and 75 female bases (X= 14.46 years; 50.48 Kg). The somatotype was calculated using the Heath-Carter method to determine the mesomorphy, endomorphy, and ectomorphy of each group. The statistical analysis carried out consisted of a descriptive and comparative analysis based on the component in particular and the mean somatotype dispersion in general. The results showed that mesomorphy was the most important component in all categories and roles. They indicated different somatotype classifications in each group, but the importance of ectomorphy in tops and endomorphy in bases should also be pointed out. Significant differences were obtained in mesomorphy (tops: p = .012; bases p = .026) and ectomorphy in both roles (tops p = .036; bases p = .001). Despite finding significant differences among certain categories, this did not follow a linear, chronological development. Therefore, one cannot conclude that the somatotype evolved with age, since this may be due to sports specialization. However, it was confirmed that mesomorphy, as in other gymnastics disciplines, is the predominant component in all categories and roles.
Keywords: anthropometry; somatotypes; growth and development; age groups.
Elpida Skaltsa, Vasiliki Kaioglou & Fotini Venetsanou
DEVELOPMENT OF BALANCE IN CHILDREN PARTICIPATING IN DIFFERENT RECREATIONAL PHYSICAL ACTIVITIES



Balance, an important motor coordination ability, underlies the performance of various motor skills and allows for participation in common childhood activities. Research indicates that sport participation could support balance development in children. To confirm the above effect, this study investigated whether participation in different recreational physical activities could induce differences in children's balance ability. Specifically, 138 children, 5-11 years old (Mage=8.4±1.3), classified into four groups according to the activity they took part in (basketball, track and field, rhythmic gymnastics, contemporary dance), were assessed by the balance subset of the KörperKoordinationstest für Kinder. Pearson correlations were applied to detect associations of balance scores with age, height, body mass index (BMI) and showed significant correlations for BMI (p< .001). The analyses of covariance (covariate: BMI) that were computed on children's balance scores showed statistically significant effects of group (p< .001). Sidak post hoc tests indicated that children participating in rhythmic gymnastics surpassed all three other groups; whereas those taking part in basketball had the lowest scores in almost every balance item. It seems that the type of physical activity a child participates in could be a significant contributor to the development of his/her balance. Physical activities encompassing the execution of various balance tasks, such as rhythmic gymnastics, seem to offer children greater opportunities to make improvements in this area compared to children engaging in activities of low balancing requirements. This finding highlights the potential that is available to coaches: they can contribute to children's balance development by implementing sport-specific programs that target this human ability.
Keywords: motor coordination, balance, sport participation, rhythmic gymnastics.
Christina Argyrou, Stylianos Spinos, Vasileios Karfis in Fotini Venetsanou
GYMNASTICS, GREEK TRADITIONAL DANCE AND TENNIS AS LEISURE-TIME PHYSICAL ACTIVITIES: WHICH ONE TRIGGERS THE MOST POSITIVE PSYCHOLOGICAL RESPONSES?



Participating in leisure-time physical activity (PA) is thought to positively associate with mental health. The aim of the present study was to investigate the acute psychological responses of adults who take part in different types of leisure-time PA (gymnastics; Greek traditional dance; tennis). A total of 277 adults, aged 18-65 years (M= 35.9, SD= 12.76 years), taking part in Greek traditional dance (n=89), gymnastics (n=88), or tennis (n=100) volunteered to participate. In order for potential changes in participants' positive well-being, psychological distress and perceived fatigue to be examined, the Subjective Exercise Experiences Scale (SEES) was administered before and after a session of the aforementioned programmes. The 3 (group [gymnastics vs Greek traditional dance vs tennis]) X 2 (time [pre-test vs post-test) analyses of variance that were performed on the SEES subscales (positive well-being; psychological distress; fatigue) revealed practically significant improvements in the positive well-being for all participants (p<.001, η2=.25) and statistically significant interactions (though not of practical importance) between group and time in positive well-being (p<.001, η2=.068), psychological distress (p<.05, η2=.02) and fatigue (p<.05, η2=.033), with participants in gymnastics presenting the most optimal results, followed by those of Greek traditional dance. Although further research is needed to fully understand the features of a PA/exercise that lead to the greatest boost in people's well-being, taking into account the growing prevalence of mental health disorders in our society, encouraging adults to join in a leisure-time PA/exercise programme seems imperative for their (psychological) health benefit.
Keywords: positive well-being, psychological distress, perceived fatigue.
Jorge Luiz Novaes Santos Júnior, Rívia da Silva Passos, Alinne Alves Oliveira, Jonas R. Dias da Silva, Ramon Silva Souza1, Rafael da Silva Passos, Marco Machado, Alexander J. Koch, Rafael Pereira
THE INFLUENCE OF HAND GUARDS ON EXPLOSIVE FORCE AND PAIN AND EXERTION PERCEPTION IN A HANG HOLDING TASK



We investigated whether hand guards (HG) influence the perception of pain and exertion during the execution of a standardized task on high bar to induce forearm muscle fatigue as well as a decline in grip strength after the task. Design: A cross-over study design was employed 15 healthy and physically active volunteers completed static bodyweight holds (8 cycles of 20 second load in hang and 10 second rest), on a high bar. The exercise protocol was performed with and without HG. Perception of pain and exertion during the task were recorded. Peak handgrip force and explosive force parameters (i.e., rate of force development [RFD] and contractile impulse [CI] at 30 to 200 ms) were obtained from force-time curves. Peak force and explosive force parameters were normalized (i.e., POS/PRE) for statistical analysis. The use of a HG significantly attenuates pain perception (p < 0.05), with a moderate to large effect size (d = 0.52), but did not alter the perception of exertion during the task, nor did it alter peak force, RFD, or CI. The use of HG reduces the perception of local pain during static holds. However, HG do not alter the perception of exertion during the task nor do they alter the gripping force ability immediately afterwards. This research did not receive any specific grant from funding agencies in the public, commercial, or not-for-profit sectors.
Keywords: mixed modality training, hand guards, rate of force development, safety, gymnastics.
Bárbara de Paula Ferreira, Nathálya Gardênia de Holanda Marinho Nogueira, Guilherme Menezes Lage, João Roberto Ventura de Oliveira, Tércio Apolinário-Souza
THE ROLE OF MENTAL PRACTICE IN DECREASING FORGETTING AFTER PRACTICING A GYMNASTICS MOTOR SKILL



Parallel to processes of memory consolidation, forgetting is a functional mechanism that allows the maintenance of relevant information or learning in memory. Practice condition can affect the forgetting rate, favouring or not memory consolidation. Physical practice has been shown to be effective in decreasing forgetting, but the role of mental practice is not known yet. Thus, in this study, we aimed to investigate the role of mental practice in the forgetting rate of a motor skill. Twenty-four participants with the mean age of 26.13 years (± 3.04) of both genders were divided into three groups: (a) mental practice group (MG); physical practice group (PG) which practised the handstand skill either mentally or physically, respectively, and (c) control group (CG) that did not practice the skill. Results showed no difference between the forgetting rate of MG and PG. Also, they had forgetting rates lower than CG. Thus, it is suggested that mental practice is as effective as physical practice to decrease the forgetting rate of motor skills, favouring the maintenance of the movement representation in memory. Possibly, physical and mental practice conditions share mechanisms that slow down forgetting processes.
Keywords: handstand skill, mental practice, forgetfulness, memory consolidation, cognitive processes.
Miguel Vicente-Mariño
WORLD AGE GROUP COMPETITIONS (WAGC) AS A DEVELOPMENT PILLAR FOR TRAMPOLINE GYMNASTICS: ANALYSING NATIONAL FEDERATIONS' RESULTS BETWEEN 1999 AND 2019



Trampoline Gymnastics is a consolidated sport within the gymnastics family. Since the International Trampoline Federation (FIT) and the International Gymnastics Federation (FIG) merged in 1999, the growth and expansion of Trampoline Gymnastics have remained constant. In this process, the role played by the World Age Group Competitions (WAGC) is worth to be mentioned, as this event has been established as the main entrance pathway to any gymnast or national federation willing to reach the international elite level. The first edition of these competitions dates back to 1973 in London, and the 27th took place in Tokyo in November 2019. This article aims to explain the key role played by WAGC in the evolution and consolidation of this Olympic sport, by conducting an in-depth analysis of the participation data and medal distribution during the last fourteen editions, all the ones taking place under the FIG umbrella. In order to complete a broader picture of these competitions, a detailed analysis in terms of editions, gender and disciplines is presented. Results return a clear dominance of the Russian Federation national team and a group of international contenders that built up their strong presence at the international scene on top of a constant and well-planned strategy in WAGC. These events have achieved to become part of the sports' internal culture and the education system has incorporated them into all the recommended procedures at the international level.
Keywords: trampoline gymnastics, age group development, history of gymnastics.
Anton Gajdoš
Short Historical Notes XX



Ivan Čuk
Reviewers 2020