Science of Gymnastics Journal vol.12., num.2., 2020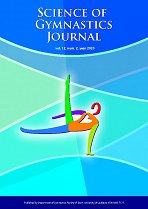 Ivan Čuk
Editorial



Dear friends,
Our expectations to celebrate the highest achievements in gymnastics at the Olympic Games in Tokyo have been postponed for a year. I hope we will be able to enjoy the Games next year. Who would have thought that one small micro size organism can stop the whole world! Some countries cancelled all sport activities, some still do let them run. Our human race is being tested. Let's hope our families, friends and everyone else will come through this crisis without any serious problems.
On the other hand, we still attend to our day-to-day activities that make our days happier. Prof. Anton Gajdoš, our collaborator on history topics and friend, has just celebrated his 80th birthday. Advanced age from some people's perspective, but Anton is still full of energy. In this issue we learn a bit more about his history diaries. We wish him many happy and healthy years to come!
For this issue our authors researched many different topics. I'm very pleased that we probably have the first research paper on the definition of aesthetic movement. In art it is believed that beauty is in the eye of the beholder. Pia Vinken and Thomas Heinen from Germany tried to define what aesthetic movement in gymnastics is supposed to be (content, no errors). Ludwig Friderich Jahn would be proud of them.
For the first time we present articles from the Democratic People's Republic of Korea and Indonesia. One article is about modelling the Jurchenko vault and another is about aerobic fitness in relation to diet.
The remaining five articles were contributed by authors from Germany (judging trampolining, motor control), Portugal (morphologic characteristics), Mexico (psychology), United Kingdom and Australia (acrobatics). All together, there are eight very interesting articles in this issue.
Anton Gajdoš provides a short historical note on Professor Vladimir Ivanovič Silin of Russia.
Just to remind you, if you quote the Journal, its abbreviation on the Web of Knowledge is SCI GYMN J.
I wish you pleasant reading and a lot of inspiration for new research projects and articles.
Pia M. Vinken, Thomas Heinen
PERCEIVED AESTHETIC FEATURES DIFFERENTIATING BETWEEN COMPLEX ARTISTIC DANCE SKILLS OF VARYING STYLE



Research on (empirical) aesthetics investigates properties and features of objects, the resulting response-mechanisms to such objects in the observer, and the interplay between factors of the object and the observer in a given context. This study focuses on object-related factors, such as biological motion. The question is addressed of whether there are perceived aesthetic features differentiating between complex artistic skills ranked most and least aesthetic by experienced observers. Therefore, 18 participants with dance experience were asked to evaluate the perceived aesthetics of stick-figure video sequences of three different complex motor skills, namely dance jumps, poses, and turns. As a result, three specific aesthetic features are pointed out as aesthetic fundamentals in the perception and evaluation of aesthetic sports and performing arts: 1) an outwards direction away from the dancers longitudinal axis and body center, 2) a focus on external rotation of the limbs (turn-out), and 3) a (diagonal) spread of body movements creating the impression of elongating the dancer's body. In particular, aesthetic features that demand the performer's ability and challenge physical laws seem to be robust parameters when aiming to create aesthetic motion stimuli. Concluding, a skill-specificity for aesthetic features, as well as the need to differentiate between the interaction of different aesthetic features, is pointed out – aspects which seem especially apparent in biological motion stimuli.
Keywords: artistic sports, performing arts, stick-figure video sequences, two-alternative forced choice task, motion perception.
Frederike Veit
HOW DOES AUDITORY INFORMATION INFLUENCE OBSERVERS' PERCEPTION DURING THE EVALUATION OF COMPLEX SKILLS?



Perceiving and gathering information from the environment are essential abilities of humans, especially in sports. An individual's perception of aspects such as the surrounding conditions or the movements of other athletes can be decisive for a successful performance. The question that arises is whether an individual's level of expertise affects his or her ability to use task-specific information. Furthermore, it should be determined whether the type of information that is gathered differs across people with different sport-specific experiences. The aim of the study was to investigate the role of auditory information in the observation and evaluation of complex skills in gymnastics. Participants with different amounts of experience were asked to estimate the duration of flight phases in straight-back somersaults on the floor under manipulated auditory conditions. The results of the current study show that participants with no specific experience in gymnastics performed worse than participants with visual or motor experiences. Additionally, the current gymnasts outperformed the other participants. One could speculate that current gymnasts benefit from their motor experiences, which lead to improved perceptual sensitivity and a better ability to identify differences between two cues. In conclusion, it could be enriching to take the auditory information into account in motor learning tasks.
Keywords: common-coding, paired comparison, perceptual sensitivity, acrobatic series on floor, expert-novice paradigm.
Antonio Pineda-Espejel, Marina Trejo, Lucía Terán, Lourdes Cutti, Edgar Galarraga
PHYSIOLOGICAL AND ANXIETY RESPONSES TO SOCIALLY PRESCRIBED PERFECTIONISM FOR GYMNASTIC COMPETITION: CASE STUDY



The purpose of this study was to analyze the psychophysiological responses (anxiety, cortisol, heart rate, skin conductance) to acute psychological stress during a visualization of competition, under the influence of pressure for perfection exerted by parents, and pressure for perfection exercised by the coach. Artistic gymnasts (3 men and 3 women) with an age range of 13 to 15 years participated, who were present in four sessions for data collection that included salivary cortisol, heart rate and skin conductance. The first session was the baseline, where we apply a booklet of questionnaires that inquire about competitive anxiety and pressure for perfection. The remaining three sessions included guided viewing; session two to create mental images and live the gymnastic competition; the third highlights the pressure for perfection created by the coach (PPE); and the fourth highlights the pressure for perfection created by parents (PPP). The results showed that the visualization of competitive situation causes stress and anxiety, although the increase in salivary cortisol was within the normal daytime level. The physiological changes were greater in those gymnasts who perceived high PPE and PPP. However, for some gymnasts the situation was considered threatening (decrease in skin conductance, and small increases in heart rate), and for others was challenging (increase in skin conductance and heart rate). In conclusion, the pressure for perfection integrates a link for the different physiological responses in competition.
Keywords: stress, interpretation, perfectionism, parents, coach.
Kum-Hyok Hwang, Yong-Song Kim, Dong-Chol Choi, Mun-Il Choi
DYNAMIC MODELLING FOR THE SECOND FLIGHT PHASE OF THE YURCHENKO LAYOUT VAULT BASED ON MSC. ADAMS



Gymnasts attempt to increase the angles of rotation about transversal and longitudinal axes during the post-flight of vaulting, and these angles are related to different mechanical properties. The present study uses a 3D angle-driven computer simulation model of a gymnast who performs Yurchenko layout vault using ADAMS software. Simulation initial conditions are horizontal and vertical velocities of gymnast's pelvis center and angular velocities about the transversal and longitudinal axes which can be easily measured. The initial linear and angular velocity conditions of the simulation model are each changed in certain increments from measurement data collected from an elite woman gymnast. Increasing initial horizontal velocity results in an increased horizontal flight distance, but has no connection with the duration of flight and angle of twists. The overall angle of twists is concerned with initial vertical velocity and angular velocities about the transversal and longitudinal axes. Also, increasing initial vertical velocity and angular velocity about transverse axis leads to increase in touchdown angle between ground's horizontal axis and gymnast's longitudinal axis.
Keywords: vault, aerial movement, multibody dynamics, ADAMS.
Rick Hayman, Remco Polman, Karl Wharton, Erika Borkoles
ROLE STRAIN THEORY: APPLICABILITY IN UNDERSTANDING DEVELOPMENTAL EXPERIENCES OF INTERNATIONAL JUNIOR ACROBATIC GYMNASTS



It is well established that elite sports performers encounter multiple stressors during their careers. However, limited research has specifically investigated developmental, organisational, and competitive transitional experiences of international junior elite athletes. Through the application of Role Strain Theory (RST), this study extended the sport talent development literature by providing key insights into the experiences of five highly successful Great Britain (GB) junior international acrobat gymnasts, aged 14-17. It explored how they simultaneously combined multiple sport, family and educational role demands during their pre-elite to elite transition and coped with these complex demands. Derived themes from semi-structured retrospective interviews identified a presence of chronic, but low level and manageable role strain during all transitional stages, which enabled positive acrobatic development, life satisfaction, physical and mental well-being and educational progress. All reported how severity and regularity of role strain, specifically overload and conflict, at times fluctuated intermittently during the early teenage years. It was at this point when increased role strain was reported to meet family commitments due to increased training and competition schedules. Challenges faced in maintaining healthy and compatible friendships, particularly with peers outside of acrobatics and school settings, were further sources of role strain during this time. Three key factors which regulated role strain were present in all participant narratives: early internalised acrobatic identity, acrobatic specialisation by very young age and social and tangible guidance from teachers and coaches in support of the athletes' holistic development. Potential further research and limitations are discussed.
Keywords: acrobatic gymnasts, elite junior, role strain theory, transitions.
Maria-Raquel G. Silva, Hugo-Henrique Silva, Teresa Luemba
ANTHROPOMETRIC PROFILE OF GYMNASTS PARTICIPATING IN THE EUROPEAN GAMES 2015 IN BAKU, AZERBAIJAN



Sports performance is strongly influenced by the athletes' anthropometric profile. In the specific case of Gymnastics, body weight assumes particular relevance, given the aesthetic character of this sport. Anthropometric data were collected from 309 gymnasts (20.9 ± 4.1 years old) participating in the 2015 European Games: age, body weight and height, from a database of the organization of this competition available online in the 5 disciplines of the Gymnastics included in the competition, namely Men´s and Women´s Artistic Gymnastics, Rhythmic Gymnastics, Acrobatic Gymnastics and Aerobic. Body mass index was calculated. Female gymnasts were significantly younger and lighter than male gymnasts and had a lower body mass index than males (P = 0.000). Female athletes were in the 25th percentile for weight and BMI and in the 15th percentile for height, according to their age. Male gymnasts were in the 25th percentile for weight, height and BMI. Female acrobatic gymnasts were younger and lighter (25th percentile) than other gymnastics disciplines; rhythmic gymnasts presented the lowest BMI (5th percentile). Male artistic gymnasts were the lightest (15th percentile) and with the lowest BMI (25th percentile) within the male participants. BMI was dependent on weight, height and gender, with exception for exclusive-gender disciplines and, surprisingly, also in Aerobics. Gymnasts presented an anthropometric profile with results for body weight, height and body mass index below the normal for their age.
Keywords: body weight, gymnastics, athlete, gender-participation, European Games.
Nazhif Gifari, Rachmanida Nuzrina, Mury Kuswari, Nabila Tri Hutami, Ayu Ghalda
RELATIONSHIP BETWEEN NUTRITION KNOWLEDGE AND AEROBIC FITNESS IN YOUNG GYMNASTS



This study aimed to analyze the nutrition knowledge, nutritional status, body composition, nutrient intake and physical fitness of young gymnasts. The study used a cross-sectional design with 20 subjects comprising rhythmic and artistic gymnasts in Raden Inten, Jakarta. Nutritional status and body composition were measured using anthropometric measurements, macronutrient and micronutrient intakes were measured with 3x24-h food recall, physical fitness was measured using the bleep test (20m shuttle run), and nutrition knowledge was assessed using questionnaires consisting of 30 questions on macronutrients, micronutrients and water. The results indicated that the gymnasts (n=20, 13.7±2.1 y.o, 37.8±8.2 kg and 147.3±10 cm) generally had a fairly good nutrition knowledge score (73.2%); i.e. 10 people in the good nutrition-knowledge group and 10 people in the poor nutrition-knowledge group. The majority of the macronutrient and micronutrient intakes were below the nutritional requirements, in both the good and poor nutrition-knowledge groups. The nutrition knowledge scores were low for hydration-related knowledge (66%), while the scores for macronutrient and micronutrient knowledge were 73.8% and 84.2%, respectively. This study found that nutrition knowledge had a positive correlation with physical fitness (p<0.05). A sports nutrition-related education intervention is needed for those gymnasts that still have poor nutrition knowledge. Sports nutrition knowledge needs to be provided for athletes and coaches so that athletes' intakes meet their nutritional requirements in order to maximise their performance.
Keywords: nutrition knowledge, nutrient intake, physical fitness, young gymnasts.
Katja Ferger, Fabian Helm, Karen Zentgraf
ESTIMATING HORIZONTAL DISPLACEMENT DEDUCTION IN TRAMPOLINE GYMNASTICS BY MEANS OF CONSTANT AND VARIABLE ERRORS OF LANDING POSITIONS: A NEW GOLD STANDARD?



The final result in competitive trampoline gymnastics is composed of different subscores. These contribute differentially to the final score and result in a gymnast's ranking. The present study was designed to investigate the impact that alternative score calculations of the horizontal displacement of the landing positions on the trampoline's cloth would have on the final competition result. Different approaches for determining a precision measure were compared to the current standard of horizontal displacement deduction. These approaches for calculating precision measures were: (a) "total distance," (b) the "convex-hull approach," and (c) the "error approach." Results showed that an alternative approach was more precise and differentiated better between gymnasts. The resulting changed rankings are compared to the official final score of the competition in order to demonstrate the impact of alternative calculations.
Keywords: trampoline gymnastics, constant error, variable error, performance.
Anton Gajdoš
Short Historical Notes XVIII