Science of Gymnastics Journal vol.12., num.1., 2020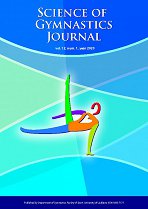 Ivan Čuk
Editorial



Dear friends,
We have been publishing scientific articles about gymnastics for a dozen of years. 2020 will be marked by the Olympic Games in Tokyo (Japan). We expect excellent gymnastics and perhaps some new records even though gymnastics is normally not about records. We believe that many articles published here in the past have contributed to safer and better gymnastics.
The present issue brings seven articles from different lines of gymnastics, including general gymnastics, rhythmics, artistic gymnastics and acrobatics. Their topis range from sociology, psychology, motor abilities and motor control to physical education.
There authors are from Brazil, Greece, Canada, Germany, Slovenia and Spain.
Anton Gajdoš drafted another article related to the history of gymnastics, refreshing our awareness of Nikolay Adrianov, an excellent Russian gymnast who marked the era between 1970 and 1980 and later as a coach in Russia and Japan.
Special thanks to our reviewers whose diligent work has improved the quality of the published papers. The list of reviewers in 2019 is at the end of this issue.
Just to remind you, if you quote the Journal, its abbreviation on the Web of Knowledge is SCI GYMN J.
I wish you pleasant reading and a lot of inspiration for new research projects and articles.
Daniela Bento-Soares, Laurita Marconi Schiavon
GYMNASTICS FOR ALL: DIFFERENT CULTURES, DIFFERENT PERSPECTIVES



Gymnastics for All (GfA) is a physical activity whose boundaries are not clearly defined from an institutional perspective. Thus, it is necessary to understand the conception adopted in GfA and its value for each social group. This study aims to discuss how different National Governing Bodies (NGB) of Gymnastics approach GfA. We asked 44 NGBs, represented by general administrative and/or GfA-specific members, about the definition of GfA adopted by the countries they represent. We used an online questionnaire hosted on Google Forms®, in four languages. The answers were analyzed through Content Analysis, whose categories were created based on a mixed model. Its strategy adopted an iterative construction of an explanation. Although similar principles of GfA can be found in different definitions, the results of the questionnaire showed that GfA means different things to each social group, so it is difficult to discuss one single understanding. Rather, it is more reasonable to think of GfA as a set of understandings. We understand that the value of GFA resides precisely in this wide variety of meanings and in the life-long practice of Gymnastics.
Keywords: Gymnastics for All, approach, national governing bodies of Gymnastics.
Fernanda Raffi Menegaldo, Marco Bortoleto
THE ROLE OF TIME AND EXPERIENCE TO THE GYMNASTICS FOR ALL PRACTICE: BUILDING A SENSE OF COLLECTIVITY



This essay aims to discuss the role of two sociological categories, time and experience, in a particular context of a non-competitive gymnastics practice (Gymnastics for All - GfA). Understanding GfA as a group activity, the collective participation becomes a key element to allow the participants to share experiences in an extended time. This collective experience in GfA seems to be directly related to development and maintenance of social relations and promotion of the sense of belonging, which reinforce GfA as a body practice that defies the performance and the individualization logic that is overly experienced in the contemporary society.
Keywords: non-competitive sports, sense of belonging, process, sociology.
Vasiliki Kaioglou, Fotini Venetsanou
HOW CAN WE ASSESS PHYSICAL LITERACY IN GYMNASTICS? A CRITICAL REVIEW OF PHYSICAL LITERACY ASSESSMENT TOOLS



Non-competitive gymnastics can contribute to the development of physical literacy (PL) that is widely recognized as a promising foundation of active living. Assessing PL is the first step for the design and evaluation of effective gymnastic programs aiming at PL enhancement, as well as for the empowerment of children's PL journey. This study attempted a comprehensive analysis of available PL assessment tools. Upon searching in five electronic databases, three multi-component tools that attempt to assess PL holistically and can be used in gymnastics were identified and were critically analyzed in relation to their content, target-population, feasibility and psychometrics. This process revealed that, despite their similarities, differences among assessment tools are evident, mainly on their primary focus, context(s) of application, age-groups they are designed for, criteria used for PL evaluation. Moreover, limitations were identified in every tool, including administration time; assessors' training required; not designed for individuals with disabilities; limited evidence for their psychometrics, raising concerns about those tools' feasibility, usefulness, and technical adequacy. As PL advancement demands valid and reliable assessment tools, the improvement of the existing ones to face their shortcomings and/or the development of new sound ones seems imperative.
Keywords: gymnastics, Physical Literacy Assessment tool for Youth, Passport for Life, Canadian Assessment of Physical Literacy, review.
Jessica Simpson, Krista J. Munroe-Chandler, Kyle F. Paradis
THE RELATIONSHIP BETWEEN PASSION AND IMAGERY USE IN COMPETITIVE YOUTH GYMNASTICS



The purpose of the present study was to examine the relationship between passion and imagery use in competitive youth gymnastics. The participants included 245 (male, n = 10; female, n = 235) gymnasts between the ages of 7-16 years participating in women's artistic gymnastics (n = 221), men's artistic gymnastics (n = 7), as well as trampoline and tumbling (n = 17). Athletes completed questionnaires measuring the frequency of imagery use and their passion towards the sport of competitive gymnastics. A series of multiple regression analyses indicated that both harmonious and obsessive passion were significantly related to all five types of imagery. More specifically obsessive passion was most strongly associated with four of the five types of imagery (CS, CG, MS, and MG-A), and harmonious passion was most strongly associated with one of the five types of imagery (MG-M). Results and implications of passion and imagery use in competitive youth sport are discussed.
Keywords: imagery, passion, youth sport, gymnastics.
Tim Haigis, Kerstin Schlegel
THE REGULATORY INFLUENCE OF THE VISUAL SYSTEM: AN EXPLORATORY STUDY IN GYMNASTICS VAULTING



Approach runs in order to maximize approach velocity are an inherent component in many sports. The goal of the study was to investigate the regulation of a complex motor task in gymnastics vaulting and the impact of the visual system within these processes. It was hypothesized that a visual perception-based strategy incorporating time-to-contact information derived from the variable tau is used to optimize the run-up in particular. Kinematic parameters of 10 gymnasts performing handsprings were examined. The analysis revealed that, on average, onset of visual control took place three steps prior to the hurdle. Linear regression showed that tau margin is dependent on the velocity of the approach run. The study supports the idea of a regulation of the run-up that is based on a visual strategy in which the influence of the vaulting table is crucial. The gymnasts were able to adapt the step length and duration respective to the movement velocity in order to facilitate an optimal transition of the run-up towards the take-off board and subsequent the vaulting table. In the process the influence of run-up velocity relating to the value of tau at the onset of visual control is of utmost importance.
Keywords: handspring, visual control, run-up, kinematic analysis.
Miha Marinšek, Mitija Samardžija Pavletič
ASSOCIATION BETWEEN MUSCLES' CONTRACTILE PROPERTIES AND JUMPING PERFORMANCE IN GYMNASTS



This study examined the association between muscles' contractile properties and jumping skill performance in gymnasts. Thirty-nine internationally experienced female (56%) and male (44%) gymnasts participated in the study. Radial displacement and contraction time of the biceps femoris, rectus femoris, vastus lateralis, vastus medialis, and erector spinae were collected to assess muscles' contractile characteristics using tensiomyography (TMG). Additionally, peak power, jump height, vertical take-off velocity, and vertical peak force in squat jump, countermovement jump, and drop jump were recorded. The TMG parameters did not predict jumping performance in our sample of female and male gymnasts. Associations between TMG parameters and jumping performance are discussed in the article.
Keywords: artistic gymnastics, countermovement jump, squat jump, drop jump, explosive power.
Ana Ferri-Caruana, Noelia Roig-Ballester, Marco Romagnoli
EFFECT OF DYNAMIC RANGE OF MOTION AND STATIC STRETCHING TECHNIQUES ON FLEXIBILITY, STRENGTH AND JUMP PERFORMANCE IN FEMALE GYMNASTS



The aim of this study was to determine the long term effect of dynamic range of motion (DROM) stretching technique and static stretching (SS) on hip range of motion (ROM), hip isometric strength and vertical jump performance in female gymnasts. In a randomized controlled trial eighteen gymnasts (age 13 ± 2 years) were assigned to a DROM group (n= 9) or SS group (n=9 ). Participants were assessed at baseline and again at completion of the intervention on: hip extensión (HE), hip flexion (HF), 1RM isometric HF strength, squat jump (SJ) and split leap (SL). Results: DROM group improved statistically from pre- to post-test in right leg HE ROM (13.67 ± 4.7 vs. 21.22 ± 5.2), right leg HF ROM (129.9 ± 9.9 vs. 139.0 ± 10.4), hip isometric strength for the right leg (2.0 ± 1.1 vs. 4.7 ± 1.6) and the left leg (1.7 ± 0.7 vs. 4.1 ± 1.6). Jump performance was not affected by type of stretching. Significance was set at 0.05 (2-tailed) for all analyses. DROM was more effective in improving gymnastic performance variables than SS. Such information may assist in determining the applications of various stretching techniques in flexibility-trained female athletes.
Key words: Dynamic range of motion, gymnasts, young, performance, female.
Anton Gajdoš
Short Historical Notes XVII



Ivan Čuk
Reviewers 2019



Ivan Čuk
New books