Science of Gymnastics Journal vol.11., num.3., 2019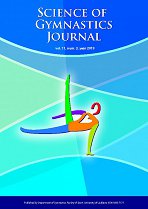 Ivan Čuk
Editorial



Dear friends,
Let me start with the latest news: at the World Championships in Stuttgart (GER), gymnasts from Turkey, Hong Kong, Ireland and the Philippines won medals for their countries for the first time ever. Simone Billes (USA) is now officially the most decorated gymnast at world championships. We saw some excellent gymnastics one year prior to the Olympic Games in Tokyo. Parkour was included in the games. October was really full of events. Additionally, there were two symposiums about gymnastics, one held in Freiburg (GER) and one in Osaka (JPN). In Slovenia, our Olympic champion Miroslav Cerar is celebrating his 80th birthday this year and as a gift, his club (established in 1863) set up an exhibition about his achievements in the Ljubljana City Hall.
In this issue, we have seven articles by authors from the USA, Greece, the United Kingdom, Slovenia, Finland and Brazil.
The first article is about trampolining. It is authored by an international group of researchers lead by William A. Sands (USA). The second article is from Slovene authors; they discus symmetries at take-offs and landings. The third article is from Greece and is about anxiety in young male gymnasts. The fourth article comes from Finland and looks at the relationship between test motor abilities, technical knowledge and competition results. The fifth article is from Brazil and examines the importance of rhythmics in university programmes. From Greece comes another article, about diet in rhythmics and aerobics. The last article is from Brazil and is about choreography in gymnastics for all.
Anton Gajdoš drafted another article related to the history of gymnastics, refreshing our awareness of Miroslav Cerar, an excellent Slovene (formerly Yugoslav) gymnast.
Just to remind you, if you quote the Journal, its abbreviation on the Web of Knowledge is SCI GYMN J.
I wish you pleasant reading and a lot of inspiration for new research projects and articles.
William A. Sands, Kelly Bret, Gregory Bogdanis, Leland Barker, Olivia Donti, Jeni R. Mcneal, Gabriella Penitente
COMPARISON OF BUNGEE-AIDED AND FREE-BOUNCING ACCELERATIONS ON TRAMPOLINE



Trampolines remain the single best apparatus for the training of aerial acrobatics skills. Trampoline use has led to catastrophic injuries from poor landings. Passive injury prevention countermeasures such as specialized matting have been largely ineffective. Active injury countermeasures such as hand spotting, "throw-in" mats, and overhead spotting rigs provide the most effective methods. The recent addition of several bungee cords between the ropes and the gymnast's spotting harness has resulted in altered teaching and coaching of trampoline-related acrobatics. Bungee cords have eliminated the need for a coach/spotter to manage the ropes during skill learning. The purpose of this study was to assess the influence of the addition of bungee cords with a traditional rope-based overhead spotting rig. There is a paucity of any research involving trampoline injury countermeasures. Ten experienced trampoline acrobatic athletes (5 males, 5 females) from the U.S. Ski and Snowboard Association Aerials National Team performed 10 bounces as high as they could control. A triaxial accelerometer (200 Hz) characterized 10 bungee cord aided bounces and 10 free-bounces on a trampoline from each athlete. Bed contact times, peak accelerations, and average accelerations were obtained. The results supported our hypotheses that the bungee-aided bounces achieved only 40% (average) to 70% (peak) of the free-bouncing accelerations (all ρ < 0.001 and all ƞ2partial >0.092). The bed contact time was approximately 65% longer during the bungee-aided bounces (ρ < 0.001). Bungee cords may reduce the harshness of landings on trampoline.
Keywords: safe jumping, biomechanics data, time, peak values.
Miha Marinšek, Ivan Čuk
EFFECTS OF DIFFERENT LEG LOADINGS AT TAKE-OFF ON LANDING CHARACTERISTICS IN TWISTING SOMERSAULTS



The purpose of the study was to determine whether take-off asymmetry affects landing asymmetry. Eleven male gymnasts performed forward and backward somersaults with 1/2, 1/1, and 3/2 twists. The leading leg for each participant was defined according to the twisting direction. Ground reaction forces under each foot were measured with Parotec insoles. Absolute and relative measures of lateral asymmetry were used as dependent variables. Three-way ANOVA and a series of one-way ANOVAs were used to determine the main effects between take-off and landing. A series of paired t-tests with Bonferroni corrections were used to find differences between the leading and non-leading legs. Maximal ground reaction forces showed that the leading leg was set out to a higher load at take-off than the non-leading leg for twisting somersaults. There were no statistically significant differences found in the maximal ground reaction force between the legs at landings. Index of bilateral asymmetry indicated landings with negligible asymmetry. However, the maximal force differences between the legs in somersault 3/2 were higher when compared to other somersault variations. No evidence was found to affirm that the asymmetry at take-off affects asymmetry at landing in a twisting somersault. Presumably, gymnasts can take corrective measures during the aerial phase of the twisting somersault that effectively diminish the tilt of the body and enable gymnasts to prepare for the landing with small proportional asymmetry. Prudence is required as these proportions rise in the quantity of load with the height of the somersault.
Keywords: Acrobatics, floor, asymmetry, twisting technique.
George Dallas, Stelliou Charis, Theodorou Apostolos, Costas Dallas
COMPETITIVE STATE ANXIETY AND PERFORMANCE IN YOUNG MALE ARTISTIC GYMNASTS



The purpose of this study was to investigate the competitive state anxiety and self-confidence on artistic gymnasts participating in the Greek national competition. 84 gymnasts, aged 9 – 11 years, completed the Competitive State Anxiety Inventory-2, one hour before the competition. The gymnasts, based on the total score they have received in all-around competition were divided into high and low performance, responded to the three subscales: Cognitive Anxiety, Somatic Anxiety, and Self-confidence. Results showed that there was significant difference in Self-confidence between high performance and low performance gymnasts. However, no significant differences were found in cognitive anxiety and somatic anxiety in these gymnasts. The Pearson coefficient revealed statistically significant between cognitive and somatic anxiety. The regression analysis failed to reveal any significant predictor of performance in these young male artistic gymnasts. The findings of the study underline the importance of examining competitive state anxiety and self-confidence in young male artistic gymnasts, mainly developing strategies to improve self-confidence to enable the athletes to better prepare for forthcoming competitions.
Keywords: anxiety, self-confidence, performance, gymnastics.
Elina Virkki, Teppo Kalaja
THE RELATIONSHIP BETWEEN WOMEN´S ARTISTIC GYMNASTICS TECHNICAL SKILL, PHYSICAL PERFORMANCE TEST RESULTS AND SUCCESS IN COMPETITIONS IN FINLAND



The aim of this study was to find out the potential of the Minoritest to identify the most likely talented gymnasts to join the national team pre-training group in Finland. The study examined the relationships between gymnasts´ (N=215, age 10–13) Minoritest results (2006–2010) and success in competitions after the Minoritests until the end of 2016. The competition results were also compared between the gymnasts who had participated in the test and a random number (N=180) of gymnasts who had not. According to this study, the majority (92%) of the best gymnasts in competitions had participated in the Minoritest. 39% of the best in competitions were among the top 10 in the Minoritest. The test results from the technical skills showed a significant connection to the average competition results in all age groups and to the average competition level in the 10–12-year-olds. The test results of the flexibility section did not show relation to competition success. The test results of the strength section showed a significant connection to the average competition results and to the average competition level in the 10–11-year-olds. In the 12–13-year-olds the test results of the strength section showed a relation to the average competition level. According to this study Minoritest success have a positive connection to the future competition success. However, the relation cannot be considered unequivocal. The test results of the strength section can be considered a significant section for the 10–11-year-olds to predict future potential to succeed.
Keywords: Women´s artistic gymnastics, talent identification, technical skills, physical performance, competition success.
Lionela da Silva Corrêa, Evandro Jorge Souza Ribeiro Cabo Verde, Michele Viviene Carbinatto
BENEFITS OF THE UNIVERSITY RHYTHMIC GYMNASTICS EXTENSION PROJECT FOR UNDERGRADUATE STUDENTS OF PHYSICAL EDUCATION AND SPORTS



University Extension is a core activity of Higher Education that joins educational, cultural and scientific processes that develop and feed Education and Research. The purpose is to put knowledge into practice through its programs, projects and events; the university extension can be held on different fields, such as sports and physical activities. Purpose of the present study was to analyze the experiences of undergraduate students participating in the university extension project in Rhythmic Gymnastics (RG), which was designed to enhance their professional development. Semi-structured interviews were carried out with twelve students who were part of the Physical Education Teacher Education and/or Bachelor in Physical Education Undergraduate Programs. The interviews were delivered with the Ethical Terms of the research objectives, in order to answer students' questions and guarantee their privacy. For data analysis, the Elaboration Technique and Signified Units Analysis were used. From the data obtained, we verified eight categories that initiated discussions about being part of the RG Extension Project. The four most cited were: a) the experience was positive; b) they learned in action; c) they felt what it was like to be a coach; d) they had direct contact with novice gymnasts. The majority of the participating undergraduate students agreed that the university extension allowed them to think about RG and others gymnastics disciplines as a potential profession, and the mentoring process as a significant way of developing coach and/or physical education teacher education to deal with gymnastics.
Keywords: rhythmic gymnastics, physical education and sports, coach education, physical education teacher education (PETE).
Christina Ioannidou, Fotini Venetsanou
SOCIAL PHYSIQUE ANXIETY, DISTURBED EATING ATTITUDES AND BEHAVIORS, AND PERCEIVED PRESSURE FOR THIN BODY IN COMPETITIVE RHYTHMIC AND AEROBIC GYMNASTS



This study investigated social physique anxiety (SPA), disturbed eating attitudes and behaviors (DEAB), and perceived pressure for thin body by the "significant others" (coach, parents, peers, experts) in 41 female rhythmic gymnastics (RG) and 49 aerobic gymnastics (AG) athletes at competitive level. Moreover, the potential impact of gymnasts' BMI was examined and controlled. Results showed that BMI associated with gymnasts' SPA, DEAB and perceived pressure, so its effect was controlled. There were no significant differences between RG and AG regarding SPA and DEAB, whereas AG athletes had higher parental pressure for thin body than RG athletes. When RG and AG data were merged, a high percentage (40%) of gymnasts presenting DEAB was revealed. Gymnasts with DEAB had significantly higher SPA and perceived pressure for thin body than those with normal eating attitudes and behaviors. These results underline the need for interventions involving "significant others" and aiming at DEAB prevention in female gymnasts.
Keywords: eating disorders, female athletes, "significant others", health.
Michele Viviene Carbinatto, Lorena Nabanete Reis Furtado
CHOREOGRAPHIC PROCESS IN GYMNASTICS FOR ALL



To transcend the idea of objectifying the body and its movements in gymnastics and its technique-based sessions and/or classes, we propose some reflection on the artistic and aesthetic aspects of gymnastics for the Gymnastics for All (GfA) program. Officially guided by FIG (Féderation Internationale de Gymnastique), it is common that GfA composition includes group performances in festivals, whether they are competitive or not. This article describes the journeys of two GfA teams that developed practitioner-centered, not coach-centered choreographies supported by the stages of creativity proposed by Kneller (1973).More than learning/doing or even learning/memorizing coded, standard sequences, it is essential to explore possibilities of dialogue between the individual and the various elements that surround him/her, by establishing a parallel between GfA features and the creative, collaborative choreographic process in the Arts (Dance and Theatre). The coach's egocentrism is redefined, and he/she is stripped of the choreographer's role e. The choreography should be considered a sketch and should inspire constant change. It will be influenced by what spectators thinks of it, how it can inspire other artists, and how participants will feel fulfilled by it. There should be endless opportunities. Shaping movement and connecting actions gradually reveal the proposed theme and give rise to technique and aesthetics: that is the major challenge of the choreographic process.
Keywords: Gymnastics for All; collaborative choreographic process; creative process.
Anton Gajdoš
Short Historical Notes XVI