Science of Gymnastics Journal vol.10., num.2., 2018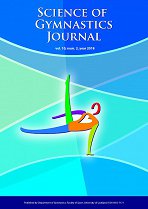 Ivan Čuk
Editorial



Dear friends,
SCGYM 10 2 2018 journal 1a Part1 SCGYM 10 2 2018 journal 1a Part2​​
SCOPUS announced results of 2017 journals evaluation. I was pleasantly surprised as Science of Gymnastics Journal Cite Score reached 0.65, SNIP 0.787 and SJR 0.28. By Cite score our journal is ranked into third quarter of journals. We have to be glad our fellow researchers cited our work in their work. Hope this trend continues in future.
In this issue we have twelve articles with authors from Greece, Brazil, Czech, Slovakia, Germany, Australia and Slovenia. Articles cover psychology (motor learning), history, philosophy (terminology), anthropometry, physiology and kinesiology.
For our October issue we are preparing a special issue about gymnastics at the Olympic Games, with special guest editors Myrian Nunomura and Laurita Marconi Schiavon from Brazil to remember the OG in Rio 2016.
Anton Gajdoš prepared with help of Michal Babela a new contribution to the history of gymnastics, refreshing our knowledge of Zoltan Magyar, incredible gymnast, pommel horse rider, elements inventor on pommel horse from Hungary .
In last issue we introduced Istvan Karacsony's book '130 years of Hungarian Gymnastics' - 904 pages with 4000 pictures/photos; for this issue he prepared slight inside into book content.
Just to remind you, if you quote the Journal: its abbreviation on the Web of Knowledge is SCI GYMN J. I wish you pleasant reading and a lot of inspiration for new research projects and articles.
​Important - due to unknown technical reason whole journal can not be load on our server in pdf format. For the moment readers will be able to view it as two parts. Please accept our apology.
Boštjan Jakše & Barbara Jakše
IS VEGAN DIET APPROPRIATE FOR COMPETITIVE ARTISTIC GYMNASTS?



The majority of scientific evidence strongly associates a well-planned vegan diet with health, a successful control of body weight, a preventive measure, and, in some cases, with the termination and the reverse of the most common chronic non-communicable diseases, such as cardiovascular diseases, type 2 diabetes, certain cancers, and some other diseases. Numerous athletes have accepted these findings and adopted this lifestyle choice. Furthermore, the athletes choose well-planned vegan diet with the intention of optimizing their athletic abilities. The position of The British Dietetic Association (BDA) and The Academy of Nutrition and Dietetics (AND) on the vegetarian diet states that well-planned vegetarian diets, including the vegan diet, are healthy and nutritionally adequate and appropriate for all stages of the life cycle, including pregnancy, lactation, infancy, childhood, adolescence and older adulthood. What is more, AND repeats its view from nearly ten years ago on the appropriateness of the vegan diet for the needs of athletes. The aim of this article is to justify the appropriateness of a well-planned vegan diet for the needs for competitive artistic gymnasts and to do so with a relative scientific transparency.
Keywords: vegan diet, gymnasts, health, body weight, athletic abilitie.
Beverley Trevithick, Max Stuelcken, Rebecca Mellifont, Mark Sayers
EPIDEMIOLOGY OF WRIST PAIN IN AUSTRALIAN GYMNASTS



SCGYM_10_2_2018_article_2.pdf​
Wrist pain in adolescent gymnasts is generally considered a 'normal' consequence of the sport. If pain is ignored it may lead to an injury of the distal radial growth plate and subsequent long term wrist dysfunction. There is a lack of epidemiology research on the prevalence of wrist pain in adolescent gymnasts with previous research documenting wrist injuries as part of general injury statistics. We aimed to investigate the life time and point prevalence of wrist pain in Australian gymnasts. A survey was designed to collect data from 10-18 year gymnasts who participated in gymnastics. Data was collected on: (i) historical experience of wrist pain (ii) current wrist pain; (iii) the influence of apparatus on wrist pain; and (iv) treatment modalities utilised. Results found there was a high life time (92.6%) and point prevalence (70.6%) of wrist pain in adolescent gymnasts. When grouped by age there was no significant difference in life time or point prevalence between genders. When grouped by training 1-10 hours per week, females had significantly higher life time prevalence (p = 0.013) than males. When grouped by training 11-25 hours per week males showed a significantly higher life time prevalence (p = 0.005) and point prevalence (p = 0.004). Wrist braces were reported as the primary method of management for wrist pain. This study promotes research into injury prevention strategies aimed at decreasing the prevalence of wrist pain and the consequence of wrist injury in adolescent gymnasts.
Keywords: adolescence gymnast, distal radial growth plate, ground reaction forces, wrist brace, apparatus
Evdoxia Kosmidou, Evgenia Giannitsopoulou, MiltiadisProios
ARE BODY ESTEEM, EATING ATTITUDES, PRESSURE TO BE THIN, BODY MASS INDEX AND TRAINING AGE RELATED IN RHYTHMIC GYMNASTICS ATHLETES?



SCGYM_10_2_2018_article_3.pdf​
Rhythmic gymnastics athletes participate and compete from a very young and critical period of their lives, as childhood and adolescence. Purpose of the present study was to examine the relationship between body esteem, eating attitudes, perceived pressure to be thin by coaches, parents and friends, Body Mass Index (ΒΜΙ) and training age in rhythmic gymnastics athletes. Eighty-three rhythmic gymnastics athletes participated (49 current and 34 former). They completed self reported questionnaires assessing demographic and personal characteristics, body esteem, global eating attitudes, and pressure to be thin by coaches, parents and friends. The results revealed that body esteem was predicted significantly by pressure to be thin by parents, BMI and training age. Also, former athletes had more positive body esteem and eating attitudes than current athletes, and current athletes felt more pressure to be thin by their parents, than former athletes. The results of the present study led to several suggestions for further studies.
Keywords: rhythmic gymnastics, athletes, body esteem, eating attitudes, pressure to be thin
Miriam Kalichová, Petr Hedbávný, Petr Dolana
ANALYSIS OF LONGITUDINAL PLANTAR ARCH IN FEMALE ARTISTIC GYMNASTS



SCGYM_10_2_2018_article_4.pdf​
The aim of the study was to use plantographic measurements to analyse the condition of longitudinal plantar arch in a group of female artistic gymnasts and to find out to which characteristics of gymnasts they are related. The study group included 52 artistic gymnasts at a high performance level. Using static measurement on an Emed platform plantographs were acquired which were then evaluated by the Chippaux-Šmiřák method, the results were then scaled according to Klementa norms. In 89 measured feet out of 104 a high longitudinal foot arch was detected. Out of these 5 were slightly high, 14 were medium high and 70 were very high. The remaining 15 gymnasts had a normal longitudinal foot arch. By calculating the Pearson correlation coefficient we found out that with the duration of gymnastic practice the height of foot arch decreases (r = 0.47), these changes might also be affected by increasing BMI (r = -0.51) during growing up. Regarding the condition of preferred and non-preferred foot, no statistically significant difference was found out (p = 0.44). Based on the results we recommend compensatory exercises aiming to plantar flexors stretching to be included in artistic gymnasts' preparation.
Keywords: Gymnastics, women, foot arch, Emed, Chippaux-Šmiřák
Konstantina Papia, Gregory C. Bogdanis, Argyris Toubekis, Anastasia Donti, Olyvia Donti
ACUTE EFFECTS OF PROLONGED STATIC STRETCHING ON JUMPING PERFORMANCE AND RANGE OF MOTION IN YOUNG FEMALE GYMNASTS



SCGYM_10_2_2018_article_5.pdf​
This study examined changes in countermovement jump (CMJ) height and hip and knee joint range of motion (ROM), after an acute bout of prolonged static stretching. Nineteen, female "Gymnastics for All" gymnasts (age: 9.8±0.5 years, training experience: 2.5±1.5 years, height: 135.0±7.3cm, body mass: 33.4±6.9 kg) performed 90s of quadriceps stretching. A single-leg stretching and jumping design was used, with the contra-lateral limb serving as control. One-leg CMJ performance for the stretched and the control leg and two-legs CMJ were measured after warm-up, and 2 min post-stretching. ROM of the stretched leg was measured before and after stretching. One-leg CMJ height remained unchanged for both the stretched (pre: 7.4±1.7, post: 6.9±1.8 cm) and the control leg (pre: 7.0±1.7, post: 6.7±2.1 cm), as shown by the lack of main effects for time (pre vs. post: p= 0.278), leg (stretched vs. non-stretched leg: p= 0.207), and interaction (p= 0.444). Two-legs CMJ also remained unchanged (pre: 16.9±3.1, post: 16.3±3.4 cm, p=0.186). Hip joint ROM increased after stretching (pre: 16.3±3.7, post: 18.2±4.2ᵒ, p=0.002), while knee joint ROM remained unchanged (pre: 26.6±2.7, post: 25.9±3.0ᵒ, p= 0.218). Prolonged static stretching increases ROM, but has no negative effect on CMJ performance in very young, flexibility-trained female gymnasts.
Key words: youth sports, flexibility, muscle power, warm-up, gymnastics
Dimitrios C. Milosis, Theophanis A. Siatras, Kosmas I. Christoulas, Dimitrios A. Patikas
RELATIVE AND ABSOLUTE RELIABILITY OF ISOMETRIC AND ISOKINETIC SHOULDER MAXIMAL MOMENT AND FLEXION/EXTENSION RATIOS IN GYMNASTS



SCGYM_10_2_2018_article_6.pdf​
Shoulder strength is essential for gymnasts in order to succeed in their sport, but little research has examined isometric and isokinetic shoulder moment and flexion/extension ratios. The purpose of this study was to evaluate the relative and absolute reliability of isometric and isokinetic shoulder moment and shoulder flexion/extension ratios. Fifteen international level male gymnasts (age: 19.3 ± 2.3 years) participated in the study. Two identical measurements with one week interval were applied using the isokinetic Humac Norm 770 dynamometer at three angles (45º, 90º, and 135º) for isometric and at three angular velocities (60º/s, 180º/s, and 300º/s) for concentric and eccentric action modes. All measurements were conducted in a range of motion of 10º to 180º, in supine position, bilaterally, with the elbows fully extended. Notwithstanding a small systematic bias (due to testing/learning) from measurement 1 to measurement 2 significant in four parameters, the results supported the reliability of the measurements. Relative (a) and absolute (b) reliability values were ranged as follows: (a) intraclass correlation coefficient (ICC) 0.73 to 0.96 and (b) standard error of measurement (SEM)(%) (calculated using ICC) 3.4 to 11.2%, minimum detectable change (MDC)(%) 10.7 to 31.1%, SEMe(%) (calculated using mean square error) 0.1 to 23.4%, MDCe(%) 1.6 to 48.8%, and coefficient of variation (CV)(%) 8.6 to 17.8%. Bland-Altman analysis showed that the bias was lower than 10% and limits of agreement (LOAs) were lower than 35%. SEMe(%) and MDCe(%) were considered as more important and meaningful to detect any significant change between two measurements, or to detect muscle imbalances. Considering the limitations of the study, results from the present study provided assessment methods and normative data that could be very helpful for researchers and practitioners to evaluate the effectiveness of intervention programs aiming at the development of shoulder muscle strength.
Keywords: Reliability, shoulder, isokinetics, flexion/extension ratio, gymnastics.
Melanie Mack, Linda Hennig in Thomas Heinen
MOVEMENT PROTOTYPES IN THE PERFORMANCE OF THE HANDSPRING ON VAULT



SCGYM_10_2_2018_article_7.pdf​
Most research concerning the kinematic analysis of gymnastics skills only deals with selected variables, thereby often ignoring the holistic nature of the analyzed skills. Therefore, the goal of this study was to develop an innovative approach to analyze the front handspring on vault. To gain comprehensive insight into the aforementioned motor skill, different skill prototypes should be detected and their variant and invariant characteristics should be investigated. The digitized video sequences of 60 handspring trials from ten female gymnasts were used for kinematic analysis. Time courses of six joints were analyzed by means of a hierarchical cluster analysis. In addition, the coefficients of variation were calculated. Results revealed that four distinct prototypical movement patterns could be identified for the handspring on vault in female near-expert gymnasts. The movement patterns within each prototype are thereby more similar to each other than the movement patterns between the four prototypes. The four different prototypes can be distinguished by certain variant and invariant characteristics, that become obvious when inspecting the time courses of the hip and shoulder angles, as well as the time course of the coefficient of variation. In light of the training process in gymnastics, the study provides further evidence for strongly considering gymnasts' individual movement patterns when it comes to motor skill acquisition and optimization.
Keywords: kinematic analysis, cluster analysis, prototypical movement patterns, variant and invariant characteristics.
Anja Šešum, Tanja Kajtna
THE USE OF AUDIOVISUAL STIMULATION IN LEARNING GYMNASTIC ELEMENTS



SCGYM_10_2_2018_article_8.pdf​
Nowadays, more and more people are aware of the difficulty to reach imposed goals and in their craving to improve their performance they often turn to different methods that help them realize their goals. The market offers many services, methods, products and machines that guarantee and promise better results. The purpose of this research was to study the impact of audio-visual stimulation (hereinafter: AVS), followed by visualization of gymnastic elements, on the improvement in performance of those gymnastic elements. The study was conducted on 39 first year students of the Faculty of Sport in Ljubljana, which attended the classes of Gymnastics and 19 of them, who were in the experimental group, attended AVS lessons twice a week. We expected AVS and visualization sessions to effect motor learning of gymnastic elements positively. Through the students' execution of gymnastic elements it was established how much the students had improved from the first lesson to the assessment. For audio-visual stimulation, the device "Therapeut", where the participants attended an 11 minute program, that stimulated alpha and beta waves and should leave the participants refreshed and creative. Meters to determine heart rate and blood saturation, music and questionnaires with a scale to determine well-being were used. Progress of motoric learning of gymnastic elements, heart rate decline as well as changes in saturation and well-being were monitored. No results obtained in the observed parameters showed that we had any impact on the improvement and our study did not reveal any impact of AVS on the improvement of the observed parameters.
Keywords: audio-visual stimulation, motor learning, imagery, heart.
Athanasia Papia, Gregory C. Bogdanis, Nikolaos Apostolidis, Olivia Donti
JUMPING PERFORMANCE IS NOT A STRONG PREDICTOR OF CHANGE OF DIRECTION AND SPRINTING ABILITY IN PREADOLESCENT FEMALE GYMNASTS



SCGYM_10_2_2018_article_9.pdf​
This study examined the association between jumping performance, change of direction and sprinting ability in preadolescent gymnasts. Fifty, female 'Gymnastics for All' gymnasts (age: 8.0 ± 0.7 years, training experience: 2.2 ± 0.8 years, height: 129.3± 6.6 cm, body mass: 28.1 ± 5.8 kg) performed one and two-leg counter movement jumps, drop jump, squat jump, standing long jump, 10 and 20 m sprints, and two change of direction tests: 10 m (5 + 5 m with a 180° turn) and 20 m (10 + 10 m with a 180° turn). Significant correlations were found between the examined variables, however multiple regression analyses showed that jumping performance accounted for a small amount of the variance of change of direction (18.4 to 27.1%) and sprinting ability tests (22.6 to 29.3%). Further research is needed to elucidate whether long-term training affects the association between jumping performance and various measures of change of direction and sprinting ability on male and female athletes of different ages and levels of performance.
Keywords: children, muscle power, acceleration, gymnastics.
Nika Šuc, Marko Weissenstein, Blaž Lešnik
RELATIONSHIP BETWEEN PERFORMANCE OF GYMNASTIC ELEMENTS AND NATIONAL CUP SUCCESS IN OLDER YOUTH CATEGORIES OF ALPINE SKIING



SCGYM_10_2_2018_article_10.pdf​
Competitive alpine skiing and gymnastics belong to polystructural sports disciplines. One of the differences between them are the conditions under which they are implemented. The external conditions in gymnastics are constant, in alpine skiing they vary. Due to the wide impact of gymnastics on the development of motor skills, this discipline is used as a means of physical preparation of young alpine skiers. The aim of this study was to determine whether there is a connection between the selected gymnastic elements and competitive performance of young alpine skiers, aged 14 to 15. The sample of variables consisted of eight tests about of gymnastic elements and an overall assessment. The independent variable represented the points scored in the cup for the Mercator Grand prize. The sample consisted of 34 athletes, 22 boys and 12 girls, all of them were competing that season. Considering the results, we can say that the relationship between competitive performance in alpine skiing is statistically typical for the group of boys, but not girls. In the group of boys, the statistically significant predictors of prosperity in alpine skiing were proven to be four of gymnastic elements and the total score of gymnastic elements, whereas in the group of girls only one element proved to be a statistic predictor. Differences in ranking positions influence gymnastic elements scores on performance success at competitions is statistically significant in older boys at a 5% risk level, whereas in the older girls category overall gymnastic elements do not influence total performance.
Keywords: alpine skiing, acrobatic elements, older boys and girls.
Mauricio Santos Oliveira, Marco Antonio Coelho Bortoleto, Myrian Nunomura
LANGUAGE IN ARTISTIC GYMNASTICS: NOTES ABOUT "GYMISH"



SCGYM_10_2_2018_article_11.pdf​
This article aims to present and discuss the lexicon of Artistic Gymnastics through a case study conducted at a gymnasium for high performance Women's Artistic Gymnastics. As such, we have carried out an analysis of the communication between the protagonists of the study, gymnasts and coaches, with the objective of exemplifying how this lexicon has formed into a part of the sport's cultural heritage. The data indicates that words and expressions specific to Artistic Gymnastics exhibit historical and cultural traits and, in some cases, transcend the limits of this sport when incorporated into society.
Keywords: Lexicon, communication, sports culture, gymnastics.
Michal Bábela, Josef Oborný
DR. MIROSLAV TYRŠ – FATHER OF THE SOKOL AND PHILOSOPHY OF THE SOKOL



SCGYM_10_2_2018_article_12.pdf​
The aim of the article is to present an overall image of the Bohemian philosopher, art historian and founder of the Sokol in the territory of Bohemia – Miroslav Tyrš. The article consists of two chapters. The first chapter – Life of Dr. Miroslav Tyrš – describes personal life of Miroslav Tyrš and his key tasks and activity within the Sokol Pražský and the Sokol movement. The second chapter – Philosophy of the Sokol – is focused on a brief review of ideological concept of the Sokol philosophy. In this chapter there are stated and elucidated the main Tyrš's philosophical basis in conception of physical education, which had and still have the great ideological value not only in the field of physical education.
Keywords: Miroslav Tyrš, Sokol Pražský, The Sokol, kalokagathia, philosophy
Anton Gajdoš
Short Historical Notes XII



New Books
Istvan Karacsony



HISTORY OF THE 130 YEARS OLD HUNGARIAN GYMNASTICS