Science of Gymnastics Journal vol.9., num.3., 2017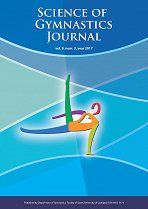 Ivan Čuk
Editorial



Dear friends,
In Montreal, the World Championships in artistic gymnastics have just ended. We saw some excellent gymnastics and, unfortunately, also some injuries of most decorated gymnasts (Uchimura, Japan, and Iordache, Romania). We are still looking forward to an upgrade in the quality of gymnastics and improvements in the health status of our athletes. Hence, dear fellow researchers, please do further research projects to improve our gymnastics! With your creative work we have published 153 original articles so far and hope that they have improved our practice.
On our Editorial Board we have a new member, Thomas Heinen, Ph.D., from Germany. In the last years he has regularly collaborated with the Journal by contributing many articles, mostly related to motor learning and motor control. Welcome aboard, Thomas!
The first article in the current issue is about Aljaž Pegan, a high bar specialist and a gymnastics senior. Andrej Kunčič and Jože Mešl (Aljaž Pegan's coach) prepared an analysis of variations in Pegan's long-lasting career. The article is partly a historical overview and partly an overview of the training theory. It answers the question how to stay on top despite changes in the Code of Points.
The second article comes from authors from three countries: Almir Atiković of Bosnia and Herzegovina, Sunčica Delaš Kalinski of Croatia and Ivan Čuk of Slovenia. We explored the age trends in artistic gymnastics from 2003 up to 2016. Dr Bruno Grandi, former FIG President, can be proud of his work as gymnasts' age is on the increase.
The third article is from Linda Hennig from Germany with focus on mental representations in the evaluation of gymnastics skills in students of physical education. It brings an interesting perspective on motor learning.
The fourth article is from Iranian researchers Ramin Beyranvand, Rahim Mirnasouri, Saeid Mollahoseini and Sadegh Mostofi who looked into the functional stability of rounded shoulder in gymnasts and non-gymnasts. It provides another proof that we need to plan training loads carefully.
The fifth article comes from Greece; authors George Dallas Alexandros Mavidis, Costas Dallas, Sotris Papouliakos compare postural stability and effects of ankle sprain injuries between male and female gymnasts. Perhaps it would be a good idea that male gymnasts do some conditioning on the beam as well as females?
The last article comes from Germany. Katja Ferger and Michel Hackbarth developed a new system to evaluate the time and place of take-off/touch-down on the trampoline. It is something new and requires knowledge of technology, acrobatics, judging and science to fulfil the competition evaluation requests. Their device could make judging much better in the sense of validity, reliability, objectivity and discrimination.
Anton Gajdoš prepared a new contribution to the history of gymnastics, refreshing our memory on Juriv Titov, former FIG President. Just to remind you, if you quote the Journal: its abbreviation on the Web of Knowledge is SCI GYMN J. I wish you pleasant reading and a lot of inspiration for new research projects and articles.
Andrej Kunčič, Jože Mešl
ALJAŽ PEGAN GYMNASTIC RESULTS DEVELOPMENT AT WORLD CHAMPIONSHIPS



In article we overview 19 years of a 33 year long sporting career of the gymnast Aljaž Pegan. His scores, ranks and exercises on the horizontal bar are presented for each World Championship. Exercises are further broken down into individual elements and descriptions of those elements. They are presented in accordance with the Code of Points published by Federation International Gymnastics, which was in force for a particular four-year period, and a theoretical comparison was made, taking into account all the changes and adjustments, with the Code of Points 2013-2016. Additionally, breakdowns of the seven Codes of Points for the horizontal bar which were in force in the period from 1989 to 2013 are also shown. Adaptation to the changing criteria of the Code of Points can be seen in the exercises through upgraded elements, which Aljaž could grasp due to his exceptional knowledge of basic motor structures such as: free hip circles, giant swings, flights and elements in double el-grip. During his career Aljaž and his coach invented two unique elements that bear his last name in the Code of Points, Pegan on the horizontal bar and on the parallel bars. His greatest success was at the World Championship in Melbourne, Australia in 2005, where he became the World Champion on the horizontal bar.
Keywords: man artistic gymnastics, horizontal bar, result development, Code of Points.
Almir Atiković, Sunčica Delaš Kalinski, Ivan Čuk
AGE TRENDS IN ARTISTIC GYMNASTIC ACROSS WORLD CHAMPIONSHIPS AND THE OLYMPIC GAMES



The aim of research was to analysis development and age structure of male and female participants at the Olympic Games (OG) and World Championships (WC) from 2003 until 2016. The total number of analyzed WC participants in men's artistic gymnastics (MAG) was 2678 and the women's artistic gymnastics (WAG) was 1981; while at the OG in MAG 391 and in WAG 389. In the last 15 years, there has been identified linear and second-order polynomial-regression increase in the age structure of participants in MAG and WAG in the largest world competitions. In analyzed period of time, MAG and WAG age of gymnasts increased. The male gymnasts from 2003 to 2016 are on average older for 2.3 years and female gymnasts for 3.3 years. In the upcoming period, we do expect (with apparatus specialization) that age will rise.
Keywords: artistic gymnastics, Code of Points, development, men, women.
Linda Hennig
MENTAL REPRESENTATIONS IN PHYSICAL EDUCATION STUDENTS\' EVALUATION OF GYMNASTICS SKILLS



Research provides evidence that mental representations control human actions. It also shows a relation between mental representations and factors that might influence performance evaluation. The evaluation of motor skills figures prominently in physical education (PE) because it influences central tasks of teachers, like the provision of feedback and grading. Therefore, the purpose of this study was to examine the relation of PE students' mental representation structures and their evaluation of pupils' gymnastics skill performance. Mental representations and performance evaluations of the cartwheel and the roll forward were assessed in N = 30 PE students, by means of structural dimensional analysis - motoric and a video test. Participants' mental representations and performance evaluations were compared to an expert reference. Results revealed significant differences regarding the comparison of performance evaluations for a group of participants with more structured and a group with less structured mental representations, indicating that more structured mental representations are linked with a more precise performance evaluation. The study demonstrates that there is a relation between PE students' mental representation structure and their evaluation of gymnastics skills. Consequently, it is proposed to implement obligatory physical and mental training in the gymnastics training for future PE teachers, in order to develop expert-like mental representation structures and improve performance evaluation.
Keywords: performance evaluation, SDA-M, roll forward, cartwheel.
Ramin Beyranvand, Rahim Mirnasouri, Saeid Mollahoseini, Sadegh Mostofi
THE FUNCTIONAL STABILITY OF THE UPPER



We aimed to assess and compare functional stability of the upper limbs in healthy and rounded shoulder gymnasts. A total of 30 male gymnasts aged 9-12 were selected according to the study inclusion and exclusion criteria and were assigned into a healthy and a rounded-shoulder group. The Upper Quarter Y-balance test was used to assess the functional stability of the upper limbs on the dominant and non-dominant sides. The paired t-test was used to compare the dominant and non-dominant arms and the independent t-test to compare the results between the two groups. The results obtained showed no significant differences in the functional stability of the upper limbs between the dominant and non-dominant sides. Furthermore, the functional stability of the upper limbs was found to be significantly higher in the healthy group compared to the rounded-shoulder group. It can be concluded that having rounded shoulders can significantly affect the YBT-UQ scores obtained and increase the risk of future injuries by reducing the functional stability of the upper limbs in closed kinetic chains. Rounded-shoulders should therefore be further addressed and efforts should be made to correct this problem in gymnasts so as to reduce their risk of developing upper limb injuries.
Keywords: Functional stability, upper limb, rounded shoulders, gymnastics.
George Dallas Alexandros Mavidis, Costas Dallas, Sotris Papouliakos
GENDER DIFFERENCES OF HIGH LEVEL GYMNASTS ON POSTURAL STABILITY: THE EFFECT OF



Artistic gymnastics is the sport with the highest number of injuries for the athletes involved. Several studies supported that the ankle and knee joints are the most commonly injured body parts of gymnasts. Ankle instability in particular is often caused by damage to passive structures leading to neuromuscular impairment. The purpose of this study was to assess gender differences on postural stability of high level gymnasts, with the effect of lateral ankle sprains injuries partially out. Ten high level female and 10 high level male gymnasts who experienced lateral ankle sprains injuries volunteered to participate in the study. Participants were assessed for postural stability on the NeuroCom EquiTest Computerized Dynamic Posturography system. Three tests were used to evaluate the: a) Unilateral Stance, b) Motor Control Test, and c) Adaptation Test. The scores for Unilateral Stance, Motor Control, and Adaptation tests were recorded. Significant gender differences were found on Unilateral Stance-Right Foot Eyes closed in slow velocity, on Motor Control Test for Amplitude Scaling on Left and Right Foot in Backward direction, and on Adaptation Test Toes down balance. Conclusively, female athletes exhibited better balance scores compared to males, when controlling for the number of lateral ankle sprains injuries they experienced during the last two years. These findings are discussed with respect to the severity of previous lateral ankle sprains injuries, and the experience from training and competing in different events, for males and females respectively.
Keywords: balance, ankle joints, gymnastics.
Katja Ferger and Michel Hackbarth
NEW WAY OF DETERMINING HORIZONTAL DISPLACEMENT IN COMPETITIVE TRAMPOLINING



The assessment criteria for competitive trampolining, which is primarily both a technical and a compositional form of sport, have been extended by the addition of some objectively measurable parameters in recent years. In addition to the degree of difficulty and the movement execution score, which is often perceived as subjective, the actual "time of flight" for the athlete was introduced as an objective (performance) criterion. Beyond this, it is proposed that, in the future, the athlete's position should be recorded during the routines in the form of a series of positional profiles and that this information should be introduced as a further scoring criterion for "horizontal displacement" in the next Olympic cycle. Using a self-developed measuring system for determining both parameters (time of flight and positioning), the resulting possibilities for controlling training and performance, as well as the options for further development of the competition system or the sport of trampolining itself are described here.
Keywords: trampolining, position determination, force sensors, measurement system.
Anton Gajdoš
HISTORICAL SHORT NOTES X