Science of Gymnastics Journal vol.9., num.1., 2017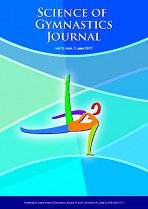 Ivan Čuk
Editorial



Dear friends, I hope you started 2017 healthy, happy and with a lot of new gymnastics-related plans. For us, our work on the Journal continues. Last year we published 20 articles and for this year we plan to do the same. We are proud that our articles are referred to by others journals. For even more streamlined appearance we will prepare a template with formatting instructions for your future articles and make it available on our website. The first article in this issue comes from a group of researchers from Poland lead by Andrzej Kochanowicz. They looked at how gymnastics experience affects body posture and found that gymnastics does have an impact on better equilibrium in standing position. Those of you who work in kindergartens and schools might find this important. The second article deals with the effects of gymnastics programs on motor proficiency in young children. Greek authors Nafsika Karachle, Aspasia Dania, Fotini Venetsanou found that recreational gymnastics did have a significant influence on motor proficiency on their sample group. The third article also comes from Greece. A research group lead by George C. Dallas touched on another key issue – proper diet and the importance of minerals and vitamins in particular. Our sport requires a specific shape and a highly efficient body which may conflict with the predominant cultural attitudes. The authors of this article consider how this gap could be bridged. The fourth article is by Joca Zurc from Slovenia and brings an analysis of interviews with 37 females who were or still are active in artistic gymnastics. All participants found their involvement in gymnastics as something positive and would do it again. The fifth article is from a Slovenian group lead by Igor Pušnik. The group has created a new and more ergonomic design of rings and compared their design with classic rings. It was an unusual experience and produced unusual results. The sixth article is from the same Greek group of researchers lead by George Dallas as our third article. In this one the group explored the effects of training maximal isometric strength in young artistic gymnasts. The last article comes from Slovenia. A group led by Edvard Kolar analysed new element Dimic on parallel bars and compered the results with the Bilozerchev element. Anton Gajdoš prepared a new contribution on gymnastics history. Our first issue brings a list of all reviewers who participated in our Journal in 2016 with our thanks for their individual contributions. And there is also an announcement for a new book by Kamenka Živčić Marković and Tomislav Krstićevič. Just to remind you, if you quote the Journal: its abbreviation on the Web of Knowledge is SCI GYMN J. I wish you pleasant reading and a lot of inspiration for new research projects and articles.
Andrzej Kochanowicz, Kazimierz Kochanowicz, Bartłomiej Niespodziński, Jan Mieszkowski, Piotr Sawicki
EFFECTS OF SYSTEMATIC GYMNASTIC TRAINING ON POSTURAL CONTROL IN YOUNG AND ADULT MEN



The aim of the study was to investigate the influence of gymnastics expertise of children and adolescents and young adults on the postural control with and without the use of visual information and during dynamic postural task. The study comprised a total of 105 males, including 48 athletes practicing gymnastics and 57 non-gymnasts. Both groups were divided into three age categories: 8-10, 12-14 and 18-24 years old. Participants' postural control was measured on force platform in bipedal static (eyes open/close) and dynamic with visual feedback condition. ANOVA test (group vs age) with repeated measurements (visual control) was used to distinguish effect of gymnastic training in three age groups. Results show that in analysis of the center of pressure surface area, all gymnast had significantly better (p=0.013) static postural control in regardless visual control (group effect), although, there were no differences in each individual age groups (group vs age; p=0.556). Furthermore, the youngest groups had significantly higher values than two other groups, indicating worse performance. Dynamic task with visual feedback showed that the youngest non-gymnasts needed much more time to complete the task in compare to all other groups of gymnasts or non-gymnasts. The results showed that gymnastic training has influence in postural control of young and adults, but unspecific static and visual feedback condition does not fully reflect adult gymnast's capabilities. However, systematic participation in gymnastics training during the early-school period could increase the ability to coordinate and regulate body posture.
Keywords: balance, visual feedback, sensory reintegration, proprioception, training adaptation.
Nafsika Karachle, Aspasia Dania, Fotini Venetsanou
EFFECTS OF A RECREATIONAL GYMNASTICS PROGRAM ON THE MOTOR PROFICIENCY OF YOUNG CHILDREN



A high level of Motor Proficiency (MP) in early years is associated with successful functioning within daily life and participation in physical activity both in short and long term. Therefore, the investment in movement programs that can boost the MP of young children is of great importance. The aim of the present study was to investigate the effect of a 6-month Recreational Gymnastics (RG) program on the MP of young children. Thirty-four children from Athens, Greece, aged 3-7 years (4.7+1.2 years) volunteered to participate in the research. Among them, 21 constituted the experimental group (EG) and attended the RG program, while 13 were allocated to the control group (CG) and did not participate in any organized form of physical activity. Pre and post measurements were conducted in both groups with the short form of the Bruininks-Oseretsky Test of Motor Proficiency – Second Edition (Bruininks & Bruininks, 2005). The ANOVA with repeated measures that was applied revealed that although both groups improved significantly their MP between the two measurements (p
George C. Dallas, Costas G. Dallas, Evaggelos J. Simatos, Jeremy E. Simatos
NUTRITIONAL RECOMMENDATIONS AND GUIDELINES FOR WOMEN IN GYMNASTICS: CURRENT ASPECTS AND CRITICAL INTERVENTIONS



Pre-adolescent and adolescent gymnasts, and especially artistics gymnasts (AG) and rhythmic gymnasts (RG), belong to a high risk group for severe deficiency in /lack of basic nutrients, especially calcium, iron, folic acid, vitamin D and zinc. The increased demands of accelerated pubertal development in combination with the need to maintain a reduced body mass and the intense daily training (without energy recovery and adequate rest) expose particularly the younger athletes to growth disorders, long-term nutritional deficiencies, problems of emotional nature (low self-esteem, dissatisfaction with body image, multiple daily weighing, obsessions with body aesthetics and physical appearance), hormonal disorders (amenorrhea), premature fatigue, osteopenia, and a particularly increased risk of injury. The vast majority of athletes feel that they are on a constant (chronic) diet. It is typical for athletes to spend hours of daily training with only water intake and no other snack, and coaches are aware of this. The detection and diagnostic assessment of nutritional deficiencies / shortcomings and future nutritiondependent disorders during the developmental ages of a gymnast is a field of study for every qualified sport dietician. Keeping this in mind, the purpose of this review is to provide targeted nutritional support directions to elite athletes of AG and RG with priority and emphasis on strengthening the immune system, nutritional strategy for direct energy recovery and the control of timely daily food intake during the annual training season.
Keywords: artistic, rhythmic, gymnastics, malnutrition, guidelines, female athlete triad.
Joca Zurc
IT WAS WORTH IT– I WOULD DO IT AGAIN!:PHENOMENOLOGICAL PERSPECTIVES ON LIFE IN THE ELITE WOMEN'S ARTISTIC GYMNASTICS



The Olympic Movement emphasizes the importance of protecting athletes' health and eliminating all possible risks. Many international documents provide similar recommendations, especially the United Nations Convention on the Rights of the Child. Yet, elite sport continues to represent a risk, especially in athletes who compete as pre-adolescent children. Women's artistic gymnastics is an Olympic sport where the age of competitors has been the lowest in the last 40 years. The purpose of our empirical research was to investigate the opinions of female gymnasts on their sports careers and top achievements in artistic gymnastics. In addition, we were interested in the opinions of coaches on the appropriate age for a child to start training and competing in women's artistic gymnastics. The results of the qualitative research conducted on a sample of 26 active and 11 retired Slovenian female gymnasts and four of their coaches revealed that the respondents would take the same career path again, despite the specific lifestyle they had to lead, many sacrifices they had to make, adverse events they faced, and the consequences on their physical and mental health. The coaches agreed that the age of a child determines their gymnastics career, but their opinions differed over whether the age limit for entering senior competitions should be raised from 16 years to 18 years. The study also provides recommendations for gymnastics clubs on finding a more successful approach towards working with young, talented athletes.
Keywords: elite child athlete, ethics, wellbeing, human rights, qualitative thematic analysis.
Igor Pušnik, Ivan Čuk, Vedran Hadžič
INFLUENCE OF NEW ANATOMIC RING DESIGN ON PALM SKIN TEMPERATURE



Gymnastics ring is very old that remained unchanged by shape (there were more changes in material and diameter) for more than 100 years. We made two new ring designs - one with the straight part to handle and one with the anatomic part to handle. New ring designs were compared with the classic ones during long swings in hang. All rings were of the same diameter and material, while the light distance between the upper and the bottom ring diameter was the same. Eighteen subjects were tested. Variables used were body height, body weight, body mass index, palm width and palm length, grip strength, and palm skin temperature before and after the exercise. Results show that palm skin temperature drops during long swing in hanging positions and this temperature drop is the most prominent with the classic and the straight rings. The palm skin temperature changes are not related to body mass index, relative grip strength, hand width and hand length and it seems that reasons for lower palm skin temperature can be related to the position of hands above heart and the shape of rings. In the sense of preserving good kinaesthetic awareness of the hand grip, at least for school and recreational use, the anatomic bent rings seems to be a better choice than classic rings or rings with the straight part.
Keywords: artistic gymnastics, thermography, hand, grip.
George C. Dallas, Paschalis Kirialanis, Costas G. Dallas, Vassilis Mellos
THE EFFECT OF TRAINING IN MAXIMAL ISOMETRIC STRENGTH IN YOUNG ARTISTIC GYMNASTS



Different methods have been developed for assessing muscle strength of various limbs in sport performance. The purpose of this study was to examine the maximal voluntary isometric strength in 57 young male gymnasts and 74 non-gymnasts. They were tested for isometric strength during force flexion and extension of upper and lower limbs during a 5-seconds maximal voluntary isometric strength for the right and left side respectively. The results showed significant differences between gymnasts and non-gymnasts (p
Edvard Kolar, Sebastijan Piletič, Klemen Bedenik, Mitija Samardžija Pavletič, Stanko Štuhec, Saša Veličković
KINEMATIC ANALYSIS OF THE NEW ELEMENT "DIMIC" AND ITS COMPARISION WITH "BILOZERCHEV" ON PARALLEL BARS



Development and recognition of new gymnastics element is subjected to the evaluation of difficulty and structural complexity of the skill. The authority over the procedure lies with the Technical Committee of International Gymnastics Federation (FIG TC) and thus the classification of an element is a result of the subjective perception of its members. The present article pursued two goals. First, a method of biomechanical modelling was used to present a new gymnastics element "Dimic" on parallel bars. Second, as the element "Dimic" was evaluated with the same difficulty and placed in an identical position as "Bilozerchev" element in the Code of Points tables, the accuracy of the evaluation was tested by comparing kinematical characteristics of both elements. Measured subject was a gymnast AD, who for the purpose of the study performed both elements. Kinematic analysis was performed with the help of APAS 3-D video motion analysis system, using a model with 17 points and 15 segments. A comparison of kinematic characteristics (movement of body centre of gravity and the supporting left hand, the amount of rotation around the longitudinal axis) revealed significant differences in a non-support phase of elements both in structural characteristics and the difficulty of the execution of the skills. It can be concluded that the placement of the "Dimic" skill in the Code of Points seems incorrect. A method used in the study could in future be used in order to more adequately place new skills into the Code of Points.
Keywords: new skills, evaluation, Code of Points.
Anton Gajdoš
Short historical notes VIII



Reviewers 2016/Recenzorji 2016
Reviewers list



New books/Nove knjige
List