Science of Gymnastics Journal vol.7., num.1., 2015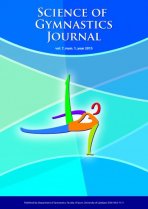 Ivan Čuk
Editorial



Dear friends,
We are entering into the 7th year of publishing our journal. Up until this issue, 91 original scientific articles and 6 review articles have been published. With this issue (17th) we cross the threshold of 100 published articles which is quite a significant number for a highly specialized journal. For this year it is our plan again to publish 20 articles. Our journal has been recently entered into the ErihPlus data base for humanities and social sciences. The process of evaluation took more than half a year but was successfully completed.
Just after we published last issue, sad news came from Brazil. Our friend, who dedicated his life to gymnastics and science, John H. Salmela passed away. In his memory his friends Natalie Durand-Bush, Jean Côté, Gordon Bloom wrote John H. Salmela, Ph.D, Celebration of life.
International Scientific Conference: Sport, Health & Education – Complementary Approach to Gymnastics, held 18 -20 June 2015 at Gdansk University of Physical Education and Sport in Poland, would like to welcome all our readers. For more information please check our next pages or visit their home page http://www.v4gymnastics.awfis.net/.
The first article in the current issue is by Pia M. Vinken (Germany). She explores short term effects of elastic taping on gymnast's performance. Please take note and transfer her results to practice: for healthy gymnasts, taping has no use.
The second article is also medical in content. It was written by Greek Italian authors Paschalis Kirialanis, George Dallas, Allessandra Di Cagno and Giovanni Fiorilli and deals with knee injuries at the landing and take-off phases. Most common causes of injury seem to be landings in floor exercises and take-offs in vaulting.
The third article is again from Germany. Damian Jeraj and Thomas Heinen conducted a research of coaches manual guidance techniques. They discovered that timing is much more important than the angle or the force the coach uses.
The forth article by Petr Hedbávný and Miriam Kalichová of the Czech Republic looks at how to optimize velocity on Yurchenko vault. As it is currently performed by both man and women it may be interesting to coaches of artistic gymnastics.
In this issue we have another article from Asia (two articles by authors from China have already been published): more specifically, from Iran, where Mahammad Mehrtash, Hadi Rohani, Esmail Farzaneh and Rasoul Nasiri monitored effects of six months of specific aerobic gymnastics training on motor abilities of 10-12-year-old boys.
The sixth article is about judging and is contributed by the author of these lines who conducted a research study on reliability and validity of spectators judging along with professional judges. The results are surprising and show that it may be possible to include spectators into the judging process.
The seventh article is a review of book 'Science of Gymnastics' written by German authors Damian Jeraj, Linda Hennig and David Schmidt-Maaß. In previous issues we presented lists of new books on the market; this issue features our first book review.
Finally, Anton Gojdoš prepared for Short Historical Notes II a memo about three excellent gymnasts: Larica Latynina, Vera Časlavska and Viktor Čukarin.
Just to remind you, if you quote the Journal: its abbreviation on the Web of Knowledge is SCI GYMNASTICS J. I wish you pleasant reading and a lot of inspiration for new research projects and articles.
Pia M. Vinken
SHORT-TERM EFFECTS OF ELASTIC TAPING ON GYMNASTS JUMPING PERFORMANCE



It was explored whether three different applications of elastic tape on the lower limbs of active, healthy gymnasts influence their vertical jumping performance. 16 gymnasts randomly performed drop jumps, squat jumps, and counter movement jumps on a force platform in four experimental conditions: 1. no tape application, 2. rectus femoris tape application, 3. triceps surae tape application, and 4. sham tape application. Five task-relevant parameters were calculated in order to represent vertical jumping performance in the three vertical jumping tasks: 1) contact time during take-off phase, 2) peak vertical force during take-off phase, 3) flight duration, 4) peak vertical impact force during landing phase, and 5) time to peak vertical impact force during landing phase. A decrease in flight duration during drop jumping, and counter movement jumping appeared when elastic tape was applied. During drop jumping gymnasts' flight duration decreased when elastic tape was applied to the triceps surae muscle. During counter movement jumping gymnasts' flight duration decreased when elastic tape was applied on the rectus femoris muscles. It is concluded that there is no apparent beneficial need for active, healthy gymnasts to apply elastic tape in order to enhance vertical jumping performance.
Keywords: Vertical Jumping, Force Platform, Athletic Performance.
Paschalis Kirialanis, George Dallas, Allessandra Di Cagno, Giovanni Fiorilli
KNEE INJURIES AT LANDING AND TAKE-OFF PHASE IN GYMNASTICS



The purpose of the present study was to record the incidence of knee injuries in Greek artistic gymnasts in relation to the event and exercise phase. Two hundred artistic gymnasts aged 12.2 ± 2.8 years from different clubs of North and South Greece volunteered to participate in this study for the 2010-2012 seasons. Authors twice a week registered any injury occurred during practice or event which made the gymnastmiss the next practice or event session. Results showed that gymnasts sustained 49.5% of knee injuries in landing mainly in the floor routines causing ligament sprains with these injuries to be occurring at the pre-competition season, usually during training time. Furthermore, knee injuries at take off phase (11.9%) occurred mainly in the vaulting horse on forward rotation exercises on the first competition level. Conclusively, coaches mainly must use supplementary soft mats during training to restrict pressure on knee joints on landing phase and control the amount of jumping in an effort to reduce the possibilities to increase knee injuries, especially in this particular age group gymnasts.
Keywords: Gymnastics, Risk Factor, Injury Prevention
Damijan Jeraj, Thomas Heinen
THE SIMULATION OF COACHES MANUAL GUIDANCE TECHNIQUES DURING THE PERFORMANCE OF A GYMNASTIC SKILL



The aim of this study was to explore the effect of different manual guidance techniques on performance-related variables of a backward salto. We simulated a backward salto by means of a computer model. Changes in performance-related variables were calculated as a result of isolated and combined hand applications. We created seven conditions that varied in angle and amount of added forces, the location of the added forces, and the activation time of the added forces, resulting in 231 simulation runs. We found that the most effective guidance technique was situation specific, because reducing or increasing the gymnast's rotation speed and adding movement height are interdependent. To accompany a movement, it is possible to use an isolated hand application at the iliac crest during the flight phase of the salto, but for stronger support it is necessary to apply a guidance technique immediately at takeoff. When using a guidance technique that involves both hands, it seems that the timing of the hand application is more critical than the angle or amount of added force a coach uses.
Keywords: Sport, Computer Model, Hand Application, Performance Effect
Petr Hedbávný, Miriam Kalichová
OPTIMIZATION OF VELOCITY CHARACTERISTICS OF THE YURCHENKO VAULT



Various versions of the Yurchenko vault are contemporarily the most widely used vaults in women's gymnastics. Using a 3D kinematic analysis of the velocity characteristics, our aim was to investigate basic variants of the Yurchenko vault, their mutual relations in chosen phases and various influences on the technique of execution. 14 vaults performed by elite artistic gymnasts both from the Czech Republic and abroad were assessed, among which it was possible to observe an individual approach to handling the locomotor task displaying varying degrees of fluctuation in both the overall velocity of the COG - vabs, and its horizontal component vx as well as vertical component vz. Despite the variety, the obtained results were used to determine the optimal course of these velocity parameters, which serves as a precondition of the correct technical execution of the Yurchenko vault. Although our study deals only with the selected characteristics of the whole series of variables affecting the quality of the execution of the Yurchenko streched, we believe our new research findings may be used by coaches and their athletes in their training practice.
Keywords: Biomechanics, Gymnastics, Vault, Optimization of Technique
Mahammad Mehrtash, Hadi Rohani, Esmail Farzaneh, Rasoul Nasiri
THE EFFECTS OF 6 MONTHS SPECIFIC AEROBIC GYMNASTIC TRAINING ON MOTOR ABILITIES IN 10 - 12 YEARS OLD BOYS



The purpose of this study was to investigate the effect of six months specific aerobic gymnastic training on motor abilities in 10-12 years old boys. Eighteen boys (aged 10-12 years old) volunteered to participate in the 6 months aerobic gymnastic training. Some motor ability parameters were measured weekly in addition to pre training. Data were analyzed using one-way ANOVA with repeated measures. The mean values of Chin-Up in 30 Seconds, Legs Lift in 30 sec, Horizontal Jump and Press Handstand test records were significantly changed after 6 months training (p<0.05).The Rope Climbing Using Legs/Feet records were significantly decreased (promoted) after 6 months specific training in aerobic gymnasts. Similarly, Tuck up Trunk and Leg Flexion records were significantly increased in the first, 3rd and last month evaluations (p<0.05).The records of Single Leg Squats test were significantly increased in both legs approximately similar to a higher value in pre training for right leg (p<0.05). Based on the results of this study it can be concluded that specific training in aerobic gymnastic, (independent of growth and maturation) causes positive changes in motor abilities in 10-12 years old boys.
Keywords: Aerobic Gymnastics, Motor Abilities, Explosive Strength, Static Strength
Ivan Čuk
CAN AUDIENCE REPLACE EXECUTION JUDGES IN MALE GYMNASTICS?



The aim of research was to test the qualityof spectators execution evaluation of gymnast's performance compared to official judges. For the purpose 91 participants (spectators) evaluated 26 exercises on parallel bars on a scale from 0-10.0 points like it is used in diving (0-Completely failed, 0.5-2.0 – unsatisfactory, 2.5-4.5 – deficient, 5.0-6.5 – satisfactory, 7.0-8.0 – good, 8.5-9.5 - very good, and 10 – excellent). Following analysis were performed: Kolmogorov Smirnov test, Cronbach's Alpha, Spearmans Rank correlation, cluster analyze (square distance method), and Kruskal Wallis analyze of variance. Spectator's reliability of judging is same as for official judges; ranking is similar to the official judges and even better. Cluster analysis extracted three groups of spectators – strict ones, medium ones and permissive ones. As an average, they function well. The biggest challenge for spectators is bias towards their local (national) heroes and champions. However, in the spectators is also a group of those who are honest and strict without having biased opinion and they formed quite a big group (one quarter).
Keywords: Judging, Code of Points, Spectators, Reliability, Validity
Damian Jeraj, Linda Hennig and David Schmidt-Maaß
BOOK REVIEW: THE SCIENCE OF GYMNASTICS



Anton Gajdoš
Short Historical Notes II



Ph.D. Anton Gajdoš born on 1.6.1940 in Dubriniči (today Ukraine) lives most of his life in Bratislava (ex TCH, nowadays SVK). He comes from gymnastics family (his brother Pavel world championship medals) and he devoted his life to gymnastics. He introduced us Larisa Latynina, Vera Časlavska and Viktor Čukarin.
Natalie Durand-Bush, Jean Côté, Gordon Bloom
John H. Salmela - Ph.D, Celebration of Life



John.H. Salmela, Ph.D. Celebration of Life.pdf
Invitation to Congress in Gdansku (Poland) June 2015
v4gymnastics@v4gymnastics.awfis.netv