Science of Gymnastics Journal vol.6., num.3., 2014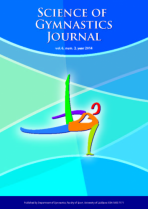 Ivan Čuk
Foreword



Dear friends,
Some of our wishes come through, we got Scopus evaluation, and for the first evaluated year of 2013 we have following results: SNIP 2013 = 0.092; IPP 2013 = 0.05; SJR 2013 = 0.205. Source Normalized Impact per Paper (SNIP) measures contextual citation impact by weighting citations based on the total number of citations in a subject field. The Impact per Publication (IPP) measures the ratio of citations per article published in the journal. SCImago Journal Rank (SJR) is a prestige metric based on the idea that not all citations are the same. Scopus ranked us into 4th quartile of journals, even better results we received from SJR SCImago where we had for 2013 20 articles published and 10 cites and we are pplaced into 3rd quartile.
Such results would not be accomplish without our authors and reviewers who made good articles. Of course, our thanks go also to those who cited our articles and we hope there will be more of them in the future if we will be also included into Thomson Reuters Web of Knowledge IF.
For the third issue in 2014, our fellow researchers prepared six articles from the fields of judging, physical education, biomechanics and history. With renoved professor Anton Gajdoš (Slovakia) author of many gymnastics books and articles we agreed he will have short historical notes about best gymnasts. He has quite big archive and it is worth to publish.
The first article is about judging artistry in women artistic gymnastics and is written from Slovenian authors Maja Bučar Pajek, Marjeta Kovač, Jernej Pajek and Bojan Leskošek, article was prepared with Neli Kim (FIG, WTC president) support and some of ideas were already implemented into new Code of Points.
The second article deals with gymnastics safety within physical education classes. Tunisia team Sarra Hammoudi Nassib, Bessem Mkaouer, Sabri Nassib, Sameh Menzli, Hela Znazen, Sabra Hammoudi Riahi and Ahmed Njeh; notes it is not important just active support of pupil, but as well are important apparatus management and class management.
The third article was prepared by María Alejandra Ávalos Ramos, María Ángeles Martínez Ruiz and Gladys Merma Molina from Spain. Their research analyses the limitations of gymnastics teaching in Secondary Schools and it would be important when designing the curriculum, to know the practice of teachers which could contribute to the implementation of new models of professional development and training.
The fourth article is from Slovenia by Miha Marinšek and Uroš Slana. They developed and standardized software for Android smart phones to analyse equilibrium during training seasons, which can be used in different gymnastics sports where equilibrium oscilations matters.
The fifth article is from Greek Theofanis Siatras, he examined the acute effect of synergist and antagonist muscles static stretching (SS) on the body segmental angles. As we are using stretching in everyday practice it is worth to read article if we want to be better coaches.
The last article is from Jože Podpečnik, who works at Slovene National Museum and he prepared interesting historical article about Sokol uniforms. It is worth to note, not many federations take care about their dresses from the past. But this artefacts are important for new generations to learn from our experience.
Just to remind you, if you quote the Journal: its abbreviation in the Web of Knowledge is SCI GYMNASTICS J. I wish you pleasant reading and a lot of inspiration for new research projects and articles,
Maja Bučar Pajek, Marjeta Kovač, Jernej Pajek, Bojan Leskošek
THE JUDGING OF ARTISTRY COMPONENTS IN FEMALE GYMNASTICS: A CAUSE FOR CONCERN?



Due to its nature and relatively poor definitions in the Code of points, judging of artistry may suffer from serious flaws in reliability and validity. We have used the balance beam artistry evaluation forms given by 5 execution judges at World Championship in Tokyo 2011 to analyze reliability and validity. Data on 194 competitors was gathered. Deductions were received by a highly variable number of competitors from separate judges in the same components of artistry. The variability of average total artistry deduction was relatively large, ranging from 0.18 to 0.39 points. The average correlation coefficient in total artistry deductions between all judge pairs was 0.6±0.06 and average correlation coefficient in total deductions from execution score was 0.73±0.04, p < 0.001. Kendall's coefficient W revealed significant systematic over- or under-rating of judges in the components of artistry of presentation, sureness of performance and variation in rhythm, but also in total artistry deductions (W values ranged from 0.05 to 0.53, p < 0.001 for all W coefficients). We conclude that neither reliability nor validity of artistry judging was satisfactory in this analysis. Further thorough evaluations of judging performance in artistry are needed to guide accommodations and hopefully improvements in this field.
Keywords: Artistic Gymnastics, Evaluation, Panel Judging, Bias.
Sarra Hammoudi Nassib, Bessem Mkaouer, Sabri Nassib, Sameh Menzli, Hela Znazen, Sabra Hammoudi Riahi, Ahmed Njeh
EFFECTIVE SKILLS AND INTERPRETATIVE PERCEPTION OF RISK TAKING OF FUTURE TEACHERS IN LEARNING GYMNASTICS SITUATION



The purpose of the present study was to determine the current skills used by the future teachers and the contribution of these skills to determine the risk evaluation during the learning of gymnastics situations. Twenty six future teachers voluntarily participated in this study. They were sports-science students pursuing degrees in Exercise Science and Physical Education during the academic year 2012/2013. All Gymnastics learning situations are digitally video-filmed. The investigators attended and observed all the learning lessons for 10 weeks throughout the entire semester. The interesting finding of this study was that there are seven skills that are mostly used by the future teachers such as the choice of the learning situations, problems resolution, risk assessment, mastery of the rules of safety, application of security rules and responsibility taking. The results suggested as well that future physical education teachers showed great importance to Equipments' Management and Time and Space Management. Likewise, responsibility taking, Intervention /help, and Group management were the most determinant skills used during the future teachers' interventions.
Keywords: Skills, Physical Education, Observation, Intervention, Learning.
María Alejandra Ávalos Ramos, María Ángeles Martínez Ruiz2, Gladys Merma Molina
INCONSISTENCIES IN THE CURRICULUM DESIGN OF EDUCATIONAL GYMNASTICS: CASE STUDY



This research analyses the limitations of gymnastics teaching in Secondary Schools. Considering that this has a negative effect on the global education of pupils, the study investigates, through the voices of the physical education teachers themselves, how the teaching of gymnastics skills is planned and implemented, and the educational changes and new perspectives needed. The methodology employed is qualitative and AQUAD 6 software has been used to analyse the data. The research results show that there is not sufficient reflection during the process of curriculum planning and design and that deliberative educational thought is not significant. In addition, colleagues of the same centre do not seem to share knowledge. Consequently, processes of change are scarce and do not correspond with the reality of the educational context. Knowing the practice of teachers, when designing the curriculum, could contribute to the implementation of new models of professional development and training.
Keywords: Teaching, Skills, Curriculum Design, Physical Education, Teacher Reflection.
Miha Marinšek, Uroš Slana
SMART PHONE AS A STANDING BALANCE ASSESSMENT DEVICE



Balance plays important role in postural control and force production in artistic gymnastics and can be used as injury prevention. Therefor balance should be monitored during the training process. Many different protocols have been used to assess balance. Recently there were proposals made to include new technologies such as smart phones in various assessment protocols. In present research, we compared a balance assessment protocol on a T shaped tilt board with smart phone application and G-weight goniometer balance assessment protocol. Thirty different positions in x-axis and thirty different positions in y-axis were used as a criteria acquired with two smart phones and one G-weight goniometer. We acquired also one real time measurement for 10 seconds on the T shaped tilt board. We found out a very strong and positive correlation between smart phone application and G-weight goniometer. Cronbach's alpha showed very high reliability of the smart phone measures. The limits of agreement showed that the measurement with the smart phone could be 0.85° below or 3.23° above in x-axis and 0.09° below or 2.96° above in y-axis the goniometer. Both smart phones share a very similar displacement-time curve. To sum up, the smart phones with its measurement characteristics are reliable and valid enough for monitoring balance on T shaped tilt board for practical use but are not precise enough for the research use.
Keywords: Artistic Gymnastics, Evaluation, Panel Judging, Bias.
Theofanis Siatras
SYNERGIST AND ANTAGONIST MUSCLES STATIC STRETCHING ACUTE EFFECT DURING A V-SIT POSITION ON PARALLEL BARS



The aim of this study was to examine the acute effect of synergist and antagonist muscles static stretching (SS) on the body segmental angles, during a strength element on parallel bars (V-sit). Fourteen male recreational gymnasts (20.9 ± 2.2 years) were asked to follow three different protocolswith the following order: a) general warm-up without stretching (WU), b) synergist muscles static stretching (SSS) and c) antagonist muscles static stretching (ASS). Right after each condition, the gymnasts were photographed in the sagittal plane, executing a V-sit position on parallel bars with legs extended and stabilized at the highest possible level. The leg-horizontal,trunk-vertical and arm-vertical angles were measured using image-pro software. Pairwise comparisons revealed a significant decrease for legs-horizontal angle, after the SS exercise of synergist muscles (SSS<WU, p<.01). The antagonist muscles SS resulted in significant increase for legs-horizontal angle, compared with synergist muscles SS condition (ASS>SSS, p<.001). Consequently, synergist muscles SS may not be recommended before gymnastics exercises that require maximal strength production. Nevertheless, the beneficial acute effect of antagonist muscles SS can act as a counterbalance to diminish or inhibit the SS detrimental acute effect on synergist muscles.
Keywords
: static stretching, force element, digital photography, goniometry, gymnastics.
Jože Podpečnik
ALL YOU NEED IS A RED SHIRT AND CAP, AND YOU ARE SOKOL!



The public appearances of Sokol companies in uniform at first awakened and later strengthened Slovenian national consciousness and united the Slovenians in Carniola and later across all Slovenian ethnic territory. The provincial government in Ljubljana and its German majority were largely opposed to the Slovenian gymnastics clubs. They blamed the Sokol clubs for encouraging ethnic intolerance with their excursions in uniform. In principle, practicing gymnastics was the first objective of the Slovenian gymnasts, followed in second place by various forms of social 'entertainment,' where they could demonstrate dignity, good manners, and moderation. Unform consisted of »surka« (jacket), red shirt, black shoes and »čikoš« (hat). The Southern Sokol Club chose for its headwear a low, round, wide-brimmed hat, to which a tricolor 'national' cockade and a Sokol feather were attached. The Sokol uniform with its red shirt became the symbol of a self-confident and nationally conscious Slovenian, a fighter for national emancipation, and a supporter of Slavic solidarity.
Keywords: Sokol, Uniforms, Dress, Cap, National Colours.
Anton Gajdoš
SHORT HISTORICAL NOTES I



Ph.D. Anton Gajdoš born on 1.6.1940 in Dubriniči (today Ukraine) lives most of his life in Bratislava (ex TCH, nowadays SVK). He comes from gymnastics family (his brother Pavel world championship medals) and he devoted his life to gymnastics. He introduced us Czech team 1907, Jalantie Tuomo Artelo an Jozef Stalder.
Nove knjige / New Books
HIGH PERFORMANCE GYMNASTICS



Short introduction - Hardy Fink http://www.arete-verlag.de/das-programm/turnengymnastik.php