Science of Gymnastics Journal vol.6., num.2., 2014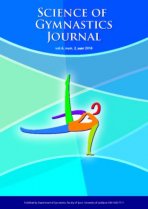 Ivan Čuk
Editorial



Dear friends,
In front of you is the 15th issue of our journal. To date, we published 91 articles, most of them original, and 4 review articles. This makes quite a good database of knowledge for our sport. First some housekeeping issues: In the beginning of the year we were informed by our friends from the United States that our website www.scienceofgymnastics.com was not working. We solved the problem and our website is now working properly.
There is still time to apply to Stiftung Universität Hildesheim, Institut für Sportwissenschaft to participate at their conference titled Dimensions of Motor Learning in Gymnastics for 1 September 2014. We will try to provide more information about it in our October issue. For the second issue in 2014, our fellow researchers prepared seven articles from the fields of history, biomechanics, motor development, judging and the relation between acrobatic knowledge and skiing knowledge. The first article is about 110 years of history of the World Championships (WC) in artistic gymnastics. Its author Abie Grossfeld who attended almost all world championships since 1958 (as a gymnast, coach, judge, journalist, expert, video analyst and perhaps even in some other capacity), including the last one in Antwerp, outlines the history from the beginning in 1903 up to 2013. At this point, let me invite you all to find and submit photos from world championships 1903-1913. The Journal would like to publish them as we believe that it is of great importance that we preserve our gymnastics heritage.
The second article deals with the Code of Points and competition systems from 1896 up to 1912 It comes from Greek authors Georgios Papadopoulos, Vasilios Kaimakamis, Dimitrios Kaimakamis and Miltiadis Proios.
The third article was prepared by William A Sands, Brent Alumbaugh, Jeni R McNeal, Steven Ross Murray and Michael H Stone from USA. They compared two types of springs in floor and their findings are very interesting.
The fourth article is from the Czech team of Roman Farana, Jaroslav Uchytil, David Zahradník, Daniel Jandacka and Frantisek Vaverka. They compared kinematic data for handspring and Tsukahara vaults with the same difficulty value. Their paper shows that handspring vaults require higher amplitude which in other words means they are actually more difficult to perform.
The fifth article from Greek authors Olyvia Donti, Anastasia Donti, Kalliopi Theodorakou presents an overview of choreography preparation in respect of the Code of Points. The article may be of interest not only to those involved in women rhythmic gymnastics but also to those in other gymnastics disciplines. The sixth and the seventh article are dealing with gymnastics knowledge.
The sixth article's authors from Croatia: Zoran Čuljak, Sunčica Delaš Kalinski, Ana Kezić and Đurđica Miletić explored the influence of fundamental movement skills on basic gymnastics skills acquisition and found important relationships between them.
The authors of the last article from Bosnia and Herzegovina Edin Mujanović, Almir Atiković, Amra Nožinović Mujanović researched how knowledge of acrobatic elements affected skiing knowledge. The article clearly shows that acrobatic is the base sport: basic skills in acrobatics improve skills and knowledge in other sports.
Just to remind you, if you quote the Journal: its abbreviation in the Web of Knowledge is SCI GYMNASTICS J. I wish you pleasant reading and a lot of inspiration for new research projects and articles.
Abie Grossfeld
CHANGES DURING THE 110 YEARS OF THE WORLD ARTISTIC GYMNASTICS CHAMPIONSHIPS



This article presents changes, along with historical perspectives, in the World Gymnastics Championships during the last 110 years - 1903 to 2013. Changes include: the events contested, team and individual achievements and dominance, debut of skills, difficulty expansion, judges, scoring, competition format, Finals qualification system, expansion of FIG affiliation, frequency cycle of the WC, number of teams and gymnasts per competition, age requirement of gymnasts, team size, venues, apparatus, devices for learning, education and certification courses, disseminating information, and expanded media coverage.
Keywords: History, Gymnasts, Rules, Judges
Georgios Papadopoulos, Vasilios Kaimakamis, Dimitrios Kaimakamis. Miltiadis Proios
MAIN CHARACTERISTICS OF RULES AND COMPETITION SYSTEMS IN GYMNASTICS FROM 1896 TO 1912



The efforts for a subjective and fair judgment for Gymnastics began since the first decades of the 19th century i.e. since the sport began to take a primitive competition form. In the years that followed, various competitive systems and rules were formed without being commonly accepted for all countries and federations. Nevertheless, the two international sport agencies, the IOC and the FEG organized international tournaments (Olympic Games, International Tournament), where participating countries accepted, more or less, the rules and competitive systems applied each time. The lack of permanent and commonly accepted rules and specifications of gymnastic apparatus created many problems at the six Olympic Games mentioned in the present study. This fact created suspiciousness within gymnastics and especially within the two international agencies with a direct impact on the progress and development of the sport.
Keywords:
Gymnastics,Olympic Games, Judgment, Competitive systems, Rules
William A Sands, Brent Alumbaugh, Jeni R McNeal, Steven Ross Murray, Michael H Stone
COMPARISON OF FLOOR EXERCISE APPARATUS SPRING-TYPES ON A GYMNASTICS REARWARD TUMBLING TAKE-OFF



Gymnastics tumbling has occurred on large spring floor apparatuses for several decades. The spring floors have used a variety of elastic materials and designs to provide an increased take-off velocity and a forgiving landing surface. The purpose of this study was to assess the efficacy of a standard cylindrical spring (10.7 cm x 5 cm diameter, 9 coils) and a modified spring (10.7 cm, 5 cm widening to 6.7 cm diameter, 9 coils) in tumbling take-offs. Specifically, take-off foot contact durations and center of mass (COM) velocities from female gymnasts (14.8±2.8 y, 159.0±7.2 cm, 49.3±7.1 kg) were measured. Gymnasts performed two trials each of a round off, flic flac, to a layout rearward somersault on each spring-type attached to a tumbling strip (12.19m x 2.41m). Data were acquired via a ViconTM kinematic system using 43 markers and 10 cameras at 200 Hz. Data were found to be reliable across trials. Analysis consisted of two, 2x3 repeated measures ANOVAs. The results showed no statistical differences between spring-types in terms of contact durations or COM component velocities. Spring-type design differences may lead to disparate spring constant and frequency effects, however, these effects of may be overwhelmed by the influences of gymnast skill, matting, carpet, and the wood and fiberglass laminate panels. Keywords: spring floor, somersault, jump, comparison
Roman Farana, Jaroslav Uchytil, David Zahradník, Daniel Jandacka, Frantisek Vaverka
DIFFERENCES IN THE KEY KINEMATIC PARAMETERS OF DIFFICULT HANDPSRING AND TSUKAHARA VAULTS PERFORMED BY ELITE MALE GYMNASTS



The aim of the study was to compare key kinematic parameters of two difficult groups of vaults performed by elite male gymnasts during a World Cup competition. The participants were twenty top-level male gymnasts who participated in the 2010 and 2011 World Cup competition in Czech Republic. The gymnasts performed Handspring and Tsukahara type vaults with a 5.2 level of difficulty. For the 3D movement analysis two digital camcorders with a frame rate of 50 Hz were used. The data was digitized by the SIMI MOTION software. To establish the differences between the means, the effect size (ES) was calculated. Results revealed significant technique differences. Although, both types of vaults are awarded the same initial points for difficulty, the Handspring group requires larger amplitude in the second flight phase and can be considered more difficult to perform.
Keywords
: kinematic analysis, gymnastics, technique, effect size
Olyvia Donti, Anastasia Donti, Kalliopi Theodorakou
A REVIEW ON THE CHANGES OF THE EVALUATION SYSTEM AFFECTING ARTISTIC GYMNASTS BASIC PREPARATION: THE ASPECT OF CHOREOGRAPHY PREPARATION



The Code of Points, the International Gymnastics Federation document directing gymnasts' training process in every Olympic Cycle, evaluates artistic gymnastics performances. The aim of this study was twofold: first to examine the most important changes of the Code of Points since 1996, affecting gymnasts' basic preparation and in particular the changes concerning choreography. Second, this paper aimed to review the relevant literature on the topic of choreography preparation in artistic gymnastics and to analyze finalists' performances in official competitions, thus exploring the contribution of choreography preparation in gymnasts' difficulty score. For the purpose of the present study Women's Artistic Gymnastics Codes of Points since 1996 were analyzed. In addition, the content of the finalists performances on floor exercises and balance beam in the Olympic Games of London 2012, World Championship in Antwerp, 2013 and European Championship in Moscow 2013 were also analyzed. The results of this study demonstrated that basic preparation of artistic gymnasts is an ongoing process, structured on the principles of "profile elements" and virtuosity of execution. Gymnasts' basic preparation focuses on choreography as a means of faultless execution and at the same time choreography preparation provides a new direction of developing difficulty while slowing down the "acrobatisation" and preserving the aesthetic quality of the sport.
Keywords: technique, execution, artistry
Zoran Čuljak, Sunčica Delaš Kalinski, Ana Kezić, Đurđica Miletić
INFLUENCE OF FUNDAMENTAL MOVEMENT SKILLS ON BASIC GYMNASTICS SKILLS ACQUISITION



This study was set to determine the existence of transfer of fundamental movement skills to the level of specialized gymnastics skills. 75 children (30 boys and 45 girls) represented the participants of the study. Fundamental movement skills were analyzed as well as twelve basic gymnastics skills according to the physical education curriculum that represent different apparatus in gymnastics all round competition. Significant influence of fundamental movement skills on all skills (criteria) is noticeable. According to the results of regression analysis, the participants who had better initial results in fundamental movement skills for surmounting obstacles also had better results of gymnastics skills in final measurement point. Highly structural connection of elements lies in the basis of high correlation of fundamental movement skills for surmounting obstacles and gymnastics skill springboard jump on the vault in sitting position which confirms Osgood's theory of positive transfer of similar skills.
Keywords: level of performance, object manipulation, skills transfer, surmounting obstacles
Edin Mujanović, Almir Atiković, Amra Nožinović Mujanović
RELATION BETWEEN ACROBATIC ELEMENTS KNOWLEDGE AND ALPINE SKIING PARALLEL TURNS AMONG PHYSICAL EDUCATION STUDENTS



The main aim of this study was to determine the correlation of motor knowledge of acrobatic elements with successful performance of parallel turns in alpine skiing. An additional aim was to determine whether there is a difference between groups divided on the basis of knowledge of alpine skiing. The research was conducted on a sample of 27 students enrolled in the third year of study at the Faculty of Sport, by the chronological age of 21-23 years. The sample of variables consisted of 14 variables to assess knowledge of acrobatic elements and one variable to assess the performance of the ski element parallel turns. The results indicate a statistically significant correlation between some acrobatic elements (e.g. with roll forward r= .438) with performance of parallel turns at the level of significance (p<0.05). Students, who have acquired the technique of acrobatic elements on the higher level or on the level of stabilization and automation with minor mistakes, achieve better results when learning the element of skiing technique – parallel turns. Based on the analysis of results we can conclude that some elements of acrobatics and skiing can interconnect according to the requirements for the motor abilities required for successful performance of acrobatic elements and we can say that the learning of acrobatic elements on higher level have a positive influence on the learning of element of alpine ski technique.
Keywords: motor knowledge, acrobatics, skiing, students