Science of Gymnastics Journal vol.6., num.1., 2014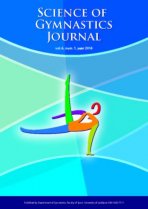 Ivan Čuk
Editorial



Dear friends,
Despite our best intentions to publish this issue on 1 February, there was some delay due to the exhibition on 150 years of Sokolism prepared by our team in the Slovene National Council which opened on 10 February. Additionally, we are organizing a Sokol meeting on 27 February. The Sokols and gymnastics have for the first time appeared in the national parliament.
Since our last issue, a Gymnastics Fedaration Conferences were held in Portugal and Slovenia. The Conferences brought a lot of interesting papers, files will be made available on their respective web sites. The Faculty of Sport in Ljubljana held a scientific conference on 150 years of Sokolism; the presented papers will soon be available but only in the printed form and in Slovenian with English abstracts. Stiftung Universität Hildesheim, Institut für Sportwissenschaft is organizing a conference titled Dimensions of Motor Learning in Gymnastics for 1 September 2014.
For the first issue in 2014 our fellow researchers prepared seven articles, from the fields of medicine, psychology, motor development, biomechanics and communications. The first article is a review by Theofanis Siatras and Dimitra Mameletzi, both of Greece. They prepared a paper called the 'Female Athlete Triad in Gymnastics' in which they discus important views relevant to this topic. As we already had a similar article by researchers from Portugal it will be interesting to compare the texts.
The team from Tunisia: Sarra Hammoudi Nassib, Bessem Mkaouer, Sabri Nassib, Sabra Hammoudi Riahi, Yessine Arfa research precompetitive anxiety and its influence on the concentration and performance in rhythmic gymnastics. Even though the sample group was small, it can be concluded that higher anxiety decreases concentration and performance.
The third article was prepared by Vassilis Mellos, George Dallas, Paschalis Kirialanis from Greece and Giovanni Fiorilli and Alessandra Di Cagno from Italy. They did a longitudinal research study on how motor abilities change in gymnasts and their non athletic peers. Spiros Prassas and Olyvia Donti from Greece conducted an interesting study about the giant backward on parallel bars and compared the good and the bad execution. They recognized difficulties in finding the reasons for bad executions.
The fifth article is from Slovenia. Ana Kašček and Matej Supej explored on a case study how humans restore equilibrium after a passive whole-body rotation. As we are dealing with rotations in one direction only, our central nervous system adapts to one-sided load. There is another article from Slovenia: Igor Pušnik and Ivan Čuk investigated what temperature changes occurred in hands when magnesium was used and when it was not. The results were surprising.
The last article is from the USA. The team of Paul MacArthur, James Angelini, Andrew Billings and Alexis March explored TV commentating on NBC during the Olympic Games 2012. It is always interesting (but not necessarily pleasurable) when a mirror is held for you.
Just to remind you, if you quote the Journal: its abbreviation in the Web of Knowledge is SCI GYMNASTICS J.
I wish you pleasant reading and a lot of inspiration for new research projects and articles.
Theofanis Siatras, Dimitra Mameletzi
THE FEMALE ATHLETE TRIAD IN GYMNASTICS



The female athlete triad consists of three inter­related components: low energy availability (with or without eating disorders), amenorrhea and osteoporosis. Female gymnastics is a sport characterized by regular exposure to high-impact prolonged physical training at an early age, requiring strict control of energy consumption. Could this lead to the female athlete triad? The bibliographic data bases of PubMed, Scopus and ScienceDirect were used to identify relevant articles, using appropriate key words as Athletic triad, Eating disorders, Amenorrhea, Osteoporosis, Bone mineral density, Bone mass, Gymnastics and Adolescent. One hundred and thirty six papers were selected and their review was mainly focused on the occurrence of eating disorders, amenorrhea and osteoporosis in female gymnasts. The bibliography revealed that in gymnastics, each component of the female athlete triad alone or a combination of them may occur. It was concluded that, even though the mechanical loading on the female gymnast's skeleton has a site-specific beneficial effect on bone mineral density, it cannot offset the detrimental effect of hormonal deficiency on the skeleton caused by chronic energy deficiency. Low energy availability (with or without eating disorders), menstrual disorders and premature osteoporosis may lead to decreased athletic performance and adverse long-term health consequences. A concerted effort among coaches, athletic trainers, parents, athletes, and healthcare personnel is optimal for the prevention, early diagnosis and treatment of the female gymnasts' athlete triad to preserve their health.
Keywords: Eating disorders, Amenorrhea, Osteoporosis, Gymnastics
Sarra Hammoudi Nassib, Bessem Mkaouer, Sabri Nassib, Sabra Hammoudi Riahi, Yessine Arfa
PRECOMPETITIVE ANXIETY EFFECT ON CONCENTRATION AND PERFORMANCE ON ELITE RHYTHMIC GYMNASTS



The multidimensional conceptualization of competitive anxiety incorporating cognitive and somatic components has provided a clearer understanding of how athletes respond to competitive stressors (see Jones, 1995; Woodman and Hardy, 2001 for a review). Thus, in competition, some athletes anxiety tend to dissipate their attention resources and to identify threats to stimuli that disrupt the running of the race. In addition, each athlete has suffered a break in concentration followed by a decline in performance and loss of confidence. So, the purpose of the present study was to examine the relationship between competitive anxiety, concentration and performance of gymnastics athletes at different time of assessment.. Data for this study were collected from 6 competitive female rhythmic gymnasts in the highest national team (age 14.8 ± 1.3 years, weight 77.5 ± 7.1 kg, height 180.8 ± 5.6 cm). Descriptive statistics revealed that the scores of cognitive anxiety increased from 15.83 ± 1.835 in the training condition to 19.67 ± 2.160 for the competition condition. Regarding somatic anxiety has increased from 15.50 ± 1.517 to 19.67 ±, 816 during the competition condition. In contrast, the average self-confidence has diminished from 21.00 ± 1.414 to 17.50 ± 1.871 during the competition .Accordingly, the importance of collecting information on how anxiety changes during the course of a competition appears fundamental to improving the predictive value of theories that seek to explain how such anxiety may influence athletic performance.
Keywords: anxiety, competition, concentration, rhythmic gymnastics.
Vassilis Mellos, George Dallas, Paschalis Kirialanis, Giovanni Fiorilli, Alessandra Di Cagno
COMPARISON BETWEEN PHYSICAL CONDITIONING STATUS AND IMPROVEMENT IN ARTISTIC GYMNASTS AND NON-ATHLETES PEERS



The aim of the present study was to evaluate the status and improvement of physical conditioning in male gymnasts, aged 9-12 years, and to compare these results with non-athletes. Fifty seven gymnasts, with an experience of 4-5 years in training and competition and 74 non-athletes of the same age were enrolled in the study. All participants were tested twice, in a 12 month interval, on 9 depended variables selected from the Euro Fit Test Battery. Results showed that gymnasts had better results than non-athletes in overall the tests (p<0.01). Except the improvement in the throwing tests, which seems to be mostly age related, the significant improvement in the jumping tests, was more evident in the gymnasts (p<0.01), whereas the improvement in the flexed arm hang and balance tests were observed in the athlete group only. The 30m running speed improvement was observed only in the non- athlete group. Neither group displayed any improvement in the push-ups and the sit-and-reach tests. In conclusion, the status and improvement of physical conditioning in pre-adolescence is significantly related to the kind and extend of physical activity performed and the scholastic motor activity curriculum should be implemented with arm strength conditioning, balance and flexibility programs.
Keywords: motor abilities, Euro Fit Test, boys, normal population, gymnasts.
Spiros Prassas, Olyvia Donti
COMPARATIVE STUDY OF GIANT SWINGS BACKWARD ON THE PARALLEL BARS



Comparative data between skilled and unskilled performances in order to examine mechanical determinants affecting the level of technical execution can arguably be beneficial to coaches and sport specialists. Therefore, the purpose of this study was to provide descriptive and comparative kinematic data on giant swings backward on the parallel bars judged by internationally qualified judges as been more or less skillful. Video data was collected utilizing a 60 Hz video camera. Fourteen giant swings were studied. Results showed no significant differences between motion patterns of parallel bars giant swings backwards receiving—on a scale from 0 to 1.0—more than 0.2 (unskilled) and less than 0.2 (skilled) deductions by internationally qualified judges. However, overall data trends and comparison of the two giants receiving the most and least deductions showed that different joint motion patterns might exist.
Keywords: giant swings, parallel bars, kinematics.
Ana Kašček, Matej Supej
COMPARATIVE RESTORATION OF BALANCE AFTER DISTURBING THE VESTIBULAR APARATUS WITH PASSIVE WHOLE-BODY ROTATION: CASE STUDY



The aim of this study was to establish whether the direction of the whole-body rotation influences the restoration of balance after the disturbance of vestibular apparatus with passive whole-body rotation. For this purpose, a chair powered by an electric motor was assembled. It rotates in a chosen direction for 10 seconds until it stops. It makes 11 turns in that time frame. The subject tested on the chair, is an active competitor of baton twirling. For baton twirling it is typical that the turns and pirouettes are performed in a counter clockwise direction (CCW). The results show that the direction of rotation influences the restoration of balance; the subject had better results in CCW rotation. COP (center of pressure) average in CW direction is 18.57% of time deviated to the left and 81.43% of time deviated to the right from center and in CCW direction is 53.83% of time deviated to the left and 46.17% of time deviated to the right from center in whole time of measurements. The differences in measurements depending on the direction of rotation and the deviation of the COP to the left and right of the center are significant.
Keywords: biomechanics, balance, rotation, dominant side, baton twirling.
Igor Pušnik, Ivan Čuk
THERMAL IMAGING OF HANDS DURING SIMPLE GYMNASTICS ELEMENTS ON THE WOODEN BAR WITH AND WITHOUT USE OF MAGNESIUM CARBONATE



The article describes investigation of effectiveness of magnesium carbonate in simple gymnastics. Students at the faculty of sports performed a simple element (one leg circle forward) while temperature of the bar and palms was measured with a thermal imager. In the first attempt they were using magnesium carbonate while in the second attempt they performed the element without magnesium carbonate. It was notable that with use of magnesium palm temperature rose, while during performance without magnesium the palm temperature was practically constant. Palm friction blisters are then expected to be less frequent when magnesium is not used, as the palm temperature does not rise (important effect of friction is warming of the bar surface and skin). As subjects did not report any grip problems, we could say that for easy elements without many repetitions not using of magnesium can be safe.
Keywords: blisters, palm, safety.
Paul MacArthur, James Angelini, Andrew Billings, Alexis March
PARALLEL LINES OF COMMENTARY? THE NBC BROADCAST NETWORKS PRIMETIME DEPICTION OF MALE GYMNASTS AT THE 2012 OLYMPIC GAMES



This study analyzes how U.S.-based NBC announcers portray male gymnasts in comparison to all other male competitors within the primetime broadcast of the Summer Olympic Games. Contrasts were analyzed regarding attributions of success, failure and personality/physicality. Analysis of NBC's primetime coverage of the 2012 London Olympic Summer Games revealed seven (7) significantly-different dialogue trends between male gymnasts and the aggregate of other male Summer Olympians. Specifically, male gymnasts were more likely to have their success (i) credited to athletic skill/strength and (ii) composure and their failure (iii) attributed to a lack of concentration and a (iv) lack of athletic ability compared to the aggregate of other male Olympians. Male gymnasts were also more likely to receive comments about being (v) modest or introverted and have their (vi) emotional state described. Male athletes competing in all sports except for gymnastics were more likely to have their successes (vii) attributed to their experience.
Keywords: television, commentary, comparision, athletes, gymnasts.