Science of Gymnastics Journal vol.4, num.3, 2012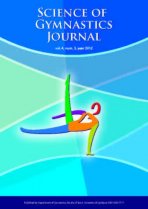 Ivan Čuk
Editorial



Dear friends,
Today we are celebrating our 10th issue of the Science of Gymnastics Journal. As this is our last issue in 2012 it is time to look back and evaluate the year. In 2012, we have published 20 articles and more than 17,000 people visited our web page. In August we received a Letter of Acceptance from the Elsevier's SCOPUS database. Along Thomson Reuters Web of Knowledge, this is the most influential science database. Last year the Journal was entered in the Copernicus Index. For 2011, our score was 5.09 which place us in the top half of scientific journals in the physical education area. In SCOPUS and Web of Knowledge, the Journal has already been quoted by other researchers. This is a source of great pride for our team and we hope the trend will continue. For those of you who would like to quote the Journal – its abbreviation in Web of Knowledge is SCI GYMNASTICS J. Notice for authors and reviewers: from now on we are using ScholarOne ( http://mc.manuscriptcentral.com/sgj ).
The Olympic Games in London were the biggest event this year for gymnastics fans. I was in London and was thrilled to watch the gymnastics competitions (artistic, rhythmic, trampoline). The FIG President, Mr Bruno Grandi, made an excellent overview of the good and the bad sides of gymnastics at the Games. This may inspire researchers to analyze the bad sides so that we can improve our sport. Additionally, it would be interesting to study (in my opinion) the most difficult combination of elements ever performed from the motor control perspective. On the high bar, Epke Zonderland connected Casina, Kovacs and Kolman salto. Simon Trček, a talented young Slovenian photographer, took a number of excellent photos of Epke Zonderland during the FIG Challenge Cup in Maribor (Slovenia) in spring 2012 where Epke performed the same combination. Simon donated one of his photos to our Journal for you to enjoy Epke's virtuosity and enourmous motor control.
The first article in this issue is from the rhytmic gymnastics. Portugese authors Susana Corujeira,Rita Santos Silva,Tiago Vieira, Cláudia Dias, Eunice Lebre, and Carla Rêgo found that competitive gymnastics affects the body composition but does not appear to compromise the nutritional status, the normal progression of puberty, bone mass and genetically defined final height. These results question the concept of simultaneous presence of malnutrition, amenorrhea and osteoporosis (FAT).
The second article is from Greece. Miltiadis Proiosconducted a study on the athletic identity and achievement goals of gymnasts.
The third article comes from Slovenia. Marjeta Kovač tested the reliability and objectivity of gymnastics knowledge tests for use in schools. Similar tests can also be used in other sports.
The Portuguese, Canadian and Spanish team of authors: Lurdes Ávila-Carvalho, Panaginota Klentrou, Maria da Luz Palomero and Eunice Lebre, contributed the fourth article in which they analyzed handling, throws, catches and collaborations in elite group rhythmic gymnastics. The article offers a number of suggestions which could improve the Code of Points.
The fifth article is from Slovenia and USA and deal with media and television in particular. Simon Ličen and Andrew C. Billings scrutinized Slovenian TV presenters reporting on gymnastics.
The sixth article comes from Tunisia and United Kingdom; authors are from Bessem Mkaouer, Monem Jemni, Samiha Amara, Helmi Chaabèn and Zouhair Tabka; interesting article about take off from different tasks.
The last article comes from a Slovak and Czech group of authors lead by Anton Gajdoš along with Marie Provaznikova, Karel Bednar and Stephen J. Banjak and is the continuation of their article in the previous issue on the 150th anniversary of the first Sokol Club in Prague.
I wish you pleasant reading and a lot of inspiration for new research projects and articles.
Susana Corujeira, Rita Santos Silva, Tiago Vieira, Cláudia Dias, Eunice Lebre, Carla Rêgo
GYMNASTICS AND THE FEMALE ATHLETE TRIAD: REALITY OR MYTH?



In sports that require low body weight, it is questioned whether the high frequency and intensity of training can compromise growth and maturation. Aim was to evaluate the influence of gymnastics on nutritional status, body composition, pubertal development, bone mass, prediction of height and the occurrence of the Female Athlete Triad (FAT) in adolescents. Convenience sample consisted of 27 female gymnasts and 15 controls. The evaluation included anthropometric parameters, body composition (bioelectrical impedance; Tanita TBF 300®), pubertal stage, bone age, bone mineral density (DXA L1-L4; Lunar Expert XL®) and blood pressure. Body mass index and genetic height prediction were calculated. Gymnasts practice a median of 18 hours per week of exercise, six times more than the control group. There were no significant differences between groups in genetic height, menarche, pubertal stage, nutritional status and bone mass. However, gymnasts have a lower value of total body fat. Sedentary adolescents show a higher prevalence of overweight, hypertension, osteopenia and final height prediction. In this particular group of athletes, competitive gymnastics influences body composition but does not appear to compromise nutritional status, normal progression of puberty, bone mass and genetically defined final height. These results question the concept of FAT, but more studies are needed.
Keywords: gymnastics, athletic performance, bone mineralization, body composition, exercise
Miltiadis Proios
ATHLETIC IDENTITY AND ACHIEVEMENT GOALS OF GYMNASTICS ATHLETES



The purpose ofthepresentstudy was to extend knowledge on the relationship between athletic identity and achievementgoalorientations. Inaddition, the present study investigated the impact of independent variables, such as sportdivisionsand thetypeofsportsgymnasticson the formation of athletic identity. Participants were 140 boys and girls athletes ranging from 8 to 17 years of age (M = 11.86, SD = 2.21), from three sports gymnastics (artistic gymnastics, n = 91; rhythmic gymnastics, n = 37; acrobatic gymnastics, n = 12). The findings of the present study established that the participants exhibit rather high perception of their athletic role, and that such perception is significantly decreased with the increase of sport division. In addition, the above mentioned findings revealed that the degree to which an athlete identifies with the athletic role can be predicted by his/ her predisposition towards achievement goal.
Keywords: athletic identity, achievement goal orientation, social goal orientation
Marjeta Kovač
ASSESSMENT OF GYMNASTIC SKILLS AT PHYSICAL EDUCATION – THE CASE OF BACKWARD ROLL



Article presents a model of the assessment of gymnastics skill. The presented task, backward roll, includes descriptionsof movement, test criteria with a measurement scale and a description of standards based on the number and type of mistakes. Videotaped student performances (N=36) were evaluated by three external evaluators to assess their level of performance. Differences in performance between genders were tested by using the analysis of the variance. Cronbach's reliability coefficient alpha and a calculation of concordance between respective evaluator's grades and a common test object were used for the evaluation of reliability and objectivity of task. No statistically significant differences between the performance of boys and girls were observed. It can be concluded that the test task is equally suitable for both genders. The reliability and objectivity of assessment were high, which indicates an appropriate selection of test criteria and descriptions. Whilst preparing analytical criteria for the assessment task, teachers should prepare descriptions of movement and clear criteria for different levels of executions. These criteria help both the teacher and the student to gain good insight into the quality of student's knowledge and simultaneously enable a teacher to help the student with further practicing and acquisition of basic motor skills.For formative assessment, it has to be mentioned that the measuring scales and criteria should differ according to the purpose of evaluation, the developmental stage of pupils and the complexity of evaluated movement.
Keywords: physical education, gymnastics, assessment, test task, metric characteristics
Lurdes Ávila-Carvalho, Panaginota Klentrou, Eunice Lebre
HANDLING, THROWS, CATCHES AND COLLABORATIONS IN ELITE GROUP RHYTHMIC GYMNASTICS



Apparatus technique is crucial in the Rhythmic Gymnastics (RG) performance evaluation because of its high impact on the final score and it is the particular requirement of this sports. The technical vigour required in the use of apparatus evidences the need to study the composition of high level routines.An analysis of the apparatus work in high level group routines will give a new insight in the understanding of RG. With this in mind, we used the groups' composition forms submitted during the Portimão World Cup series from 2007 to 2010 to analyse the apparatus difficulty profile of the RG high level group routines. A total of 126 group routines from 28 countries were analysed. It is concluded that hoop routines had the most balanced apparatus technique whereas the poorest technical apparatus work was seen in clubs maybe because is the only double apparatus. According to the competition success analysis, success in high level RG group competition could be explained by: higher training volume (hours per week) (43%), higher use of throws (6%) and collaborations with risk (16,5%). These risky technical elements performed by the higher level groups require an anticipation coincidence ability that is linked with the loss of visual contact with the apparatus.
whole article.pdf
Keywords: apparatus handlings, throws, catches, collaborations, group rhythmic gymnastics
Simon Ličen, Andrew C. Billings
TWO PERSPECTIVES ON ONE COMPETITION: SLOVENIAN COVERAGE OF ARTISTIC GYMNASTICS



Televised sports images are complemented by the speech of network-employed announcers who dramatize the narrative and interpret the on-screen events. The purpose of this study was to analyze Slovenian coverage of artistic gymnastics events at the 2008 Beijing Summer Olympics. Over 7 hours of broadcasts were recorded and analyzed. All references to athletes or teams spoken by the commentators were transcribed and coded according to a 17-item taxonomy to study discursive framing in sports broadcasting. Frequencies of each category of descriptors were then calculated and compared between groups. A total of 4,472 descriptors were transcribed and coded: 56% were spoken by the play-by-play announcer and 44% by the technical commentator. The color commentator provided more evaluative descriptions and background information (especially concerning the gymnasts' routines), while the play-by-play announcer offered more factual commentary, as well as more attributions of personality. Evaluative commentary most often relied on assessments of athletic talent and ability, experience, and consonance. It also featured emphases on national feelings. The share of broadcasters' subjective commentary in gymnastics is considerably higher than that found in team sports. Commentators wield tremendous narrative power with the masses as their dialogue transcends topics in sports.
whole article.pdf
Keywords: Olympics, media content, identity, sports broadcasting, media bias
Bessem Mkaouer, Monem Jemni, Samiha Amara, Helmi Chaabèn, Zouhair Tabka
KINEMATIC AND KINETIC ANALYSIS OF COUNTER MOVEMENT JUMP VERSUS TWO DIFFERENT TYPES OF STANDING BACK SOMERSAULT



The aim of this study was to compare the take-off's kinetic and kinematic variables between three types of jumps from a standing position: counter movement jump with arm swing (CMJa), standing back somersault with landings on the spot (BSls) and standing back somersault with rear displacement at landing (BSld). Five elite level male gymnasts (age 23.17 ± 1.61 years; height 165.0 ± 5.4 cm; weight 56.80 ± 7.66 kg) took part in this investigation. A force plate and a 3D movement analysis system were synchronized and used for data collection. Statistical analysis via non-parametric Kruskal-Wallis test showed a significant difference between the take-off variables. The vertical component of force, peak power, impulse and displacement of the centre of mass were significantly different (P<0.01). Similarly, the horizontal component of force, maximum speed, peak power and displacement of the centre of mass were significantly different (P<0.01). However, vertical velocity remained relatively constant. In conclusion, the standing back somersaults performed on the spot's variables (without back displacement) were very similar to the ones analysed during counter movement jump with arm swing. The standing back somersault with landing on the spot allowed better force impulse. This was facilitated by a take-off closer to the centre of mass, unlike the standing back somersault with rear displacement in landing. Analysing kinetic and kinematic together, allowed the endorsement of linear regression equations enabling the prediction of some variables from others.
Keywords: gymnastics, take-off, thrown off centre, reaction force.
Anton Gajdoš, Marie Provaznikova, Karel Bednar, Stephen J. Banjak
SOKOL SLETS – THE ESSENCE OF GYMNASTICS IN CZECHOSLOVAKIA, CZECH AND SLOVAK REPUBLIC (CELEBRATING 150 YEARS OF GYMNASTICS)



History of Sokol gymnastics started in Praque in 1862. The most important task of Sokol organization was healthy nation, which can be more productive and self defending. For the purpose of mass national exercise the Slets were organized. Since organized the first Slet in 1882 and the last one 2012, Slets lived ups and downs, sometimes were even bigger event than Olympic Games. Slets were very influential events, therefore politics interfered and adopted aims and means of Slets; changing name into Spartakiada. With democratic changes in Europe, Slets got new design and image. Internationaly idea of Slets was adopted by FIG and in 1953 the first Gimnaestrada has been organised. Despite Sokol is not so powerfull as it was, the main idea of national healthy physical exercise lives further.
Keywords: gymnastics, sokol, slets