Science of Gymnastics Journal vol.2, num.2, 2010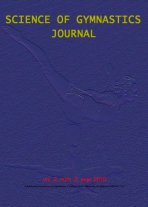 Ivan Čuk
Foreword



Dear friends,
It is already four months since the last issue of the Science of Gymnastics Journal. In the period from 1 February to 1 June, the previous issue received 4320 visits from 81 countries. For a scientific journal, this is quite a respectable number.
In May/June, EBSCOhost list of Journals included the Science of Gymnastics Journal in the SPORTDiscus database. Hence, our Journal is now indexed in the largest sport journal databases.
Additionally, Thomson Reuter promised to consider evaluating our Journal for the Impact Factor if we publish our next three issues on time (June and October 2010 and February 2011). As you have been very diligent sending your papers we are certain we can respond to the Thomson Reuter's requests in good time and with high quality content.
The gymnastics community (FIG) knows that more knowledge leads to a lift in the level of gymnastics. At the end of June, the second symposium on artistic and rhythmic gymnastics, organized by the Faculty of Physical Education, Campinas University, will be held in Sao Paolo, Brazil. You can visit their web site at http://www.fef.unicamp.br/sigarc2010/index.htm. We strongly support gymnastics conferences and would like to share information about all such scientifically orientated events. If you are planning to organize a scientific conference on gymnastics please let us know and we will publish the information on our pages.
In the current issue, we present a History of the USA Artistic Gymnastics written by Abie Grossfield. I first met Abie in 1995 when he was video recording the World Championships in Sabae. Abie is a living legend and in his article I found interesting new pieces of information that only somebody who has lived the moment can provide. His article is the first historical article in our Journal and hopefully it will inspire others (for example, Antonin Gajdoš who will turn 70 this year) to write more such papers.
Mikko Pehkonen from Finland conducted an interesting research study on the quality of teaching in schools. The physical education theme is another new topic in this Journal and, again, it will hopefully lead to many more stimulating papers on gymnastics in schools.
Our third article comes from the United States; it was written by EarhartGammon who researched and analyzed walking in handstand in comparison with normal walking.
The next article is from Greece: George Dallas examined judges in men's artistic gymnastics and how their knowledge and experience influence the quality of judging.
The last article is from Slovenia. Miha Marinšek writes about landings in gymnastics. His review provides an overview of what has been done and suggestions on what should be done in the near future about landings.
Wishing you inspiring reading.
The whole Science of Gymnastics Journal vol.2, num.2, 2010
Abie Grossfeld
A HISTORY OF USA ARTISTIC GYMNASTICS



"A History of United States Gymnastics," by Abie Grossfeld, covers the development and accomplishments of U.S. gymnastics through the years, starting with the organizations and the individual pioneers who introduced and helped spread gymnastics across the U.S. The contributions, to U.S. gymnastics, of the various organizations – Turnvereins, Sokols, YMCAs, athletic clubs, colleges, and high schools - are explained. In addition are the roles that the NCAA and AAU had in U.S. gymnastics development. Presented are the nature of and the participation in the various past and present gymnastics events (apparatus). Listed are skills that were initially performed by U.S. gymnasts for each event, and the notable accomplishments of U.S. gymnastics luminaries. How American gymnasts fared in international competition, with special performances, through the years, starting with the 1904 Olympic Games up to the 2009 World Championships. Lists for U.S. gymnastics medal winners are provided for the U.S. Olympic Games, World Gymnastics Championships, World University Games and Pan American Games.
Keywords:artistic gymnastics, USA, history. A HISTORY OF USA ARTISTIC GYMNASTICS
Mikko Pehkonen
QUALITY OF THE TEACHING PROCESS AS AN EXPLANATORY VARIABLE IN LEARNING GYMNASTICS SKILLS IN SCHOOL PHYSICAL EDUCATION



The aim of the study was to seek explanatory factors for learning gymnastics skills in school physical education. One hundred four 7- to 16-year-old students from 19 teaching groups and 23 teachers participated in measurements over 3 years of follow-up. A group of tests measured the skills in apparatus gymnastics and motor abilities. Videotapes were used to observe the teaching events. The focuses for observation were divided between the factors for input, process, and feedback. Factor analysis, regression analysis, and automatic interaction detector (AID) analysis were used in data processing. In the explanatory model for the factors in a teaching event, most explanation was on the quality of practice to improve gymnastics skills. It was possible to compensate for qualitatively weak feedback in teaching with a good transfer effect, and to compensate for a weak transfer effect with good feedback. The competence of the teacher can be emphasized significantly through, for example, the scholastic management of physical education and pupil awareness. This combination guarantees the individuality and continuity of teaching.
Keywords: gymnastics, physical education, skills, teaching, quality. QUALITY OF THE TEACHING PROCESS AS AN EXPLANATORY VARIABLE IN LEARNING GYMNASTICS SKILLS IN SCHOOL PHYSICAL EDUCATION
Gammon M. Earhart, Callie Mosiman
COORDINATION OF HANDWALKING IN GYMNASTS: A COMPARISON TO BIPEDAL WALKING



Handwalking is a skilled movement that many, if not most, individuals never master. However, mastery of handwalking is critical to successfully compete in gymnastics. Understanding the patterns of movement employed to achieve handwalking may provide insights into the coordination of handwalking and strategies that may be effective for improving handwalking performance. The aim of this study was to characterize the spatiotemporal features of handwalking in gymnasts, compare these features to those of typical walking, and determine how these features vary as a function of skill level. Nineteen gymnasts performed handwalking and bipedal walking trials on a computerized walkway. Participants used nearly identical cadences for handwalking and bipedal walking. Differences between handwalking and bipedal walking included shorter strides, a wider base of support, and more time spent in double support during handwalking. The increase in double support time may be a strategy adopted to enhance stability, as level of gymnastics skill was positively correlated with the amount of time spent in double support, i.e. with both hands in contact with the ground, during handwalking. Coaching strategies that encourage increasing the amount of time spent with both hands in contact with the floor may be advisable to improve handwalking performance.
Keywords: coordination, gymnastics, handwalking, locomotion. COORDINATION OF HANDWALKING IN GYMNASTS: A COMPARISON TO BIPEDAL WALKING
George Dallas, Paschalis Kirialanis
JUDGES EVALUATION OF ROUTINES IN MEN ARTISTIC GYMNASTICS



For competition judging, the practice of assigning gymnastics judges into one of two groups (D-Jury and E-Jury) is internationally accepted. International judges (the highest level) are placed in the D-Jury and national judges are allocated to the E-Jury. Performance evaluations are the jurisdiction of the E-Judges who record the deductions in the exercises, determining the exercise final score. The purpose of this study was to examine if there were significant differences between D-Jury and E-Jury judges (international vs. national), based on their evaluations of gymnastics performances; allowing for an assessment of the necessity to split judges into these two groups. Twenty experienced judges, who volunteered to participate in the study, were divided into two groups (National vs International). The judges evaluated, via videotape, nine gymnastics routines performed on the rings. Points were deducted (in tenths of units) based on the severity of errors in the routines. According to the results, for the judges level effect the results approached significance and significant differences were found across the 9 separate programs. The observed differences raise questions concerning the existing placement system of judges (international vs. national) in Greece.
Keywords: artistic gymnastic, judges, evaluation, level of judging. JUDGES EVALUATION OF ROUTINES IN MEN ARTISTIC GYMNASTICS
Miha Marinšek
BASIC LANDING CHARACTERISTICS AND THEIR APPLICATION IN ARTISTIC GYMNASTICS



Landings are extremely important in gymnastics to improve athlete performances as well as to reduce injuries. Studies on landings therefore provide an interesting field of research in which numerous studies have been conducted. This article gives an overview of the results from these studies that can be used by coaches to improve teaching on landing techniques. The biomechanical characteristics and motor control of landings is reviewed.
Keywords: gymnastics,landings, kinematics, dynamics, motor control. BASIC LANDING CHARACTERISTICS AND THEIR APPLICATION IN ARTISTIC GYMNASTICS